Oh Hawaii, you exude magic and surreal fantasy. You embody natural abundance, and being around you captivates me; reminds me that there is also magic running through my veins.
Are you ready to fully experience this land of wonder?
I have traveled to almost every continent (Antartica, I'm coming for you!) and considering I have been working very hard on building Feed Your Spirit, Inc. and the Feed Your Power Program, it was truly a gift that this trip came up for me (unexpectedly!) and I didn't have to travel 40 hours to get there, stop in any communist countries on my way (goodbye, internet), exchange my currency, or try to pick up the local language. Hawaii is SO EASY. Thank God, we are very fortunate it is a part of America.
And beautiful. Did I mention how beautiful it is? I've been here before, and Maui and Kauai. Maybe I was more awake this time?
OK – time to start planning! It does take around 5 hours to get there direct, with a three hour time difference, so you will need to plan ahead for food. First, check out my healthy travel packing list before you leave. The trip starts on your way to the airport!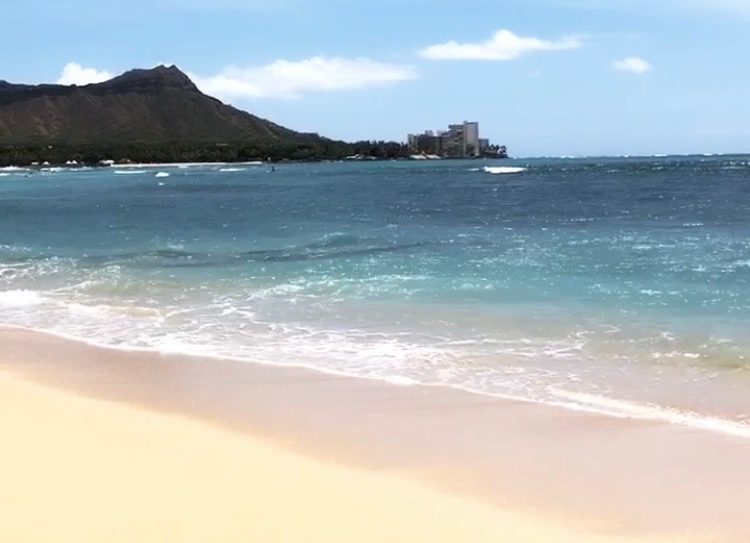 One thing that I wish I had brought with me is snorkel gear. Snorkeling is free, and in my opinion, you basically get to experience flying. You're weightless in another world, watching all the creatures, seeing all the colors, effortlessly coasting in delightfully warm and clear water. It's like watching an entire ecosystem and all its little moving parts; a nature documentary come to life. So if you're into that — bring your gear! Every sandy beach on Oahu is perfect for snorkeling. You can see the fish from the sand! I, however, was advised to rent snorkel gear and I didn't get around to it so — I totally missed out.
Don't let that be you. I would've ordered this.
I hear that Hanauma Bay is the best place to snorkel. It is about a 30-minute drive from Waikiki, and an excellent place to go. Get there early – around 8 or 8:30 am to avoid the crowds.
The Ala Wai Canal has a path that is great for a run or a stroll, but honestly, where isn't great for a run or walk around this place?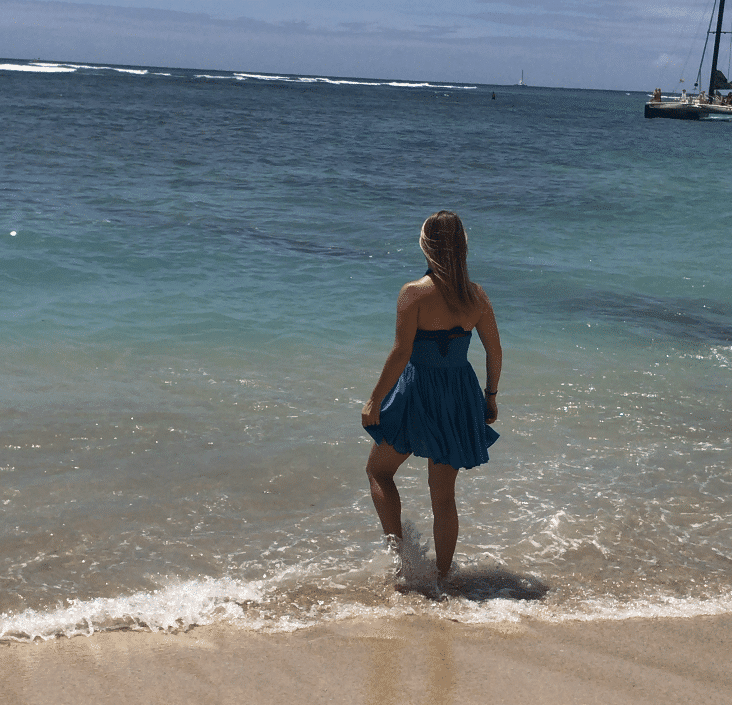 Truthfully, something that got in my way a bit was the early sunset! I was working while I was on the island, and my calls were west coast time so I was up and out early (which I totally recommend, so many rainbows!) but I missed a chunk of time for fun because of that. I was there in September and the sun set by 6:30 pm, so keep that in mind.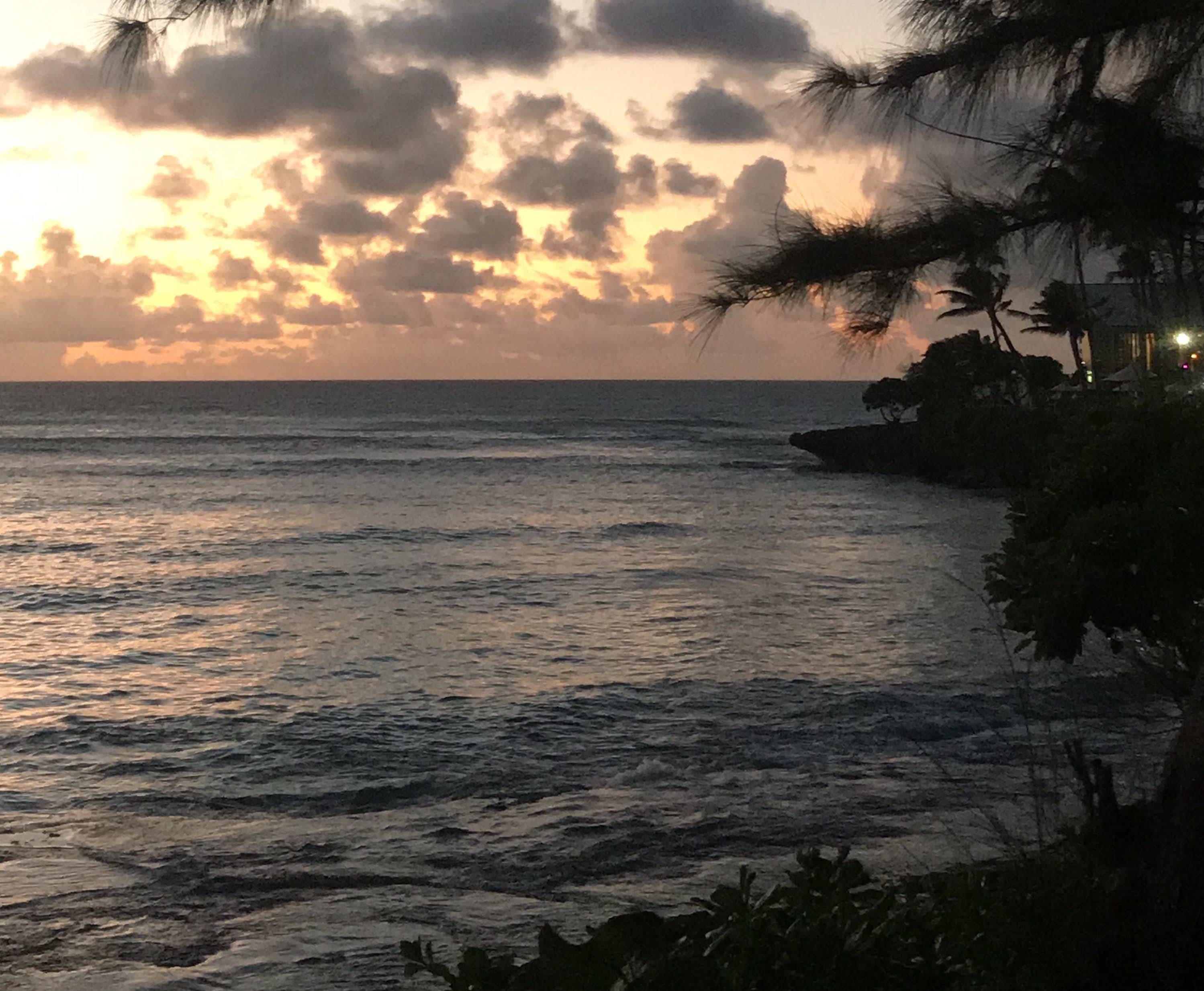 Waikiki beach is glamorous and stunning, a perfect beach with perfect sand, and opulent hotels along the shore. Definitely go see the Westin Moana Surfrider! Just for a bite or a drink or a gander. Look at the incredible lobby, and the stunning tree on their back patio. It is basically on the sand, and they have live music there at night. It's the oldest hotel on the island, there were several weddings there just when I was visiting.
There is yoga on Waikiki beach for $10 a class. Always make time for movement on vacation!
Definitely take advantage of Groupons and GO big! I want to do this one next time.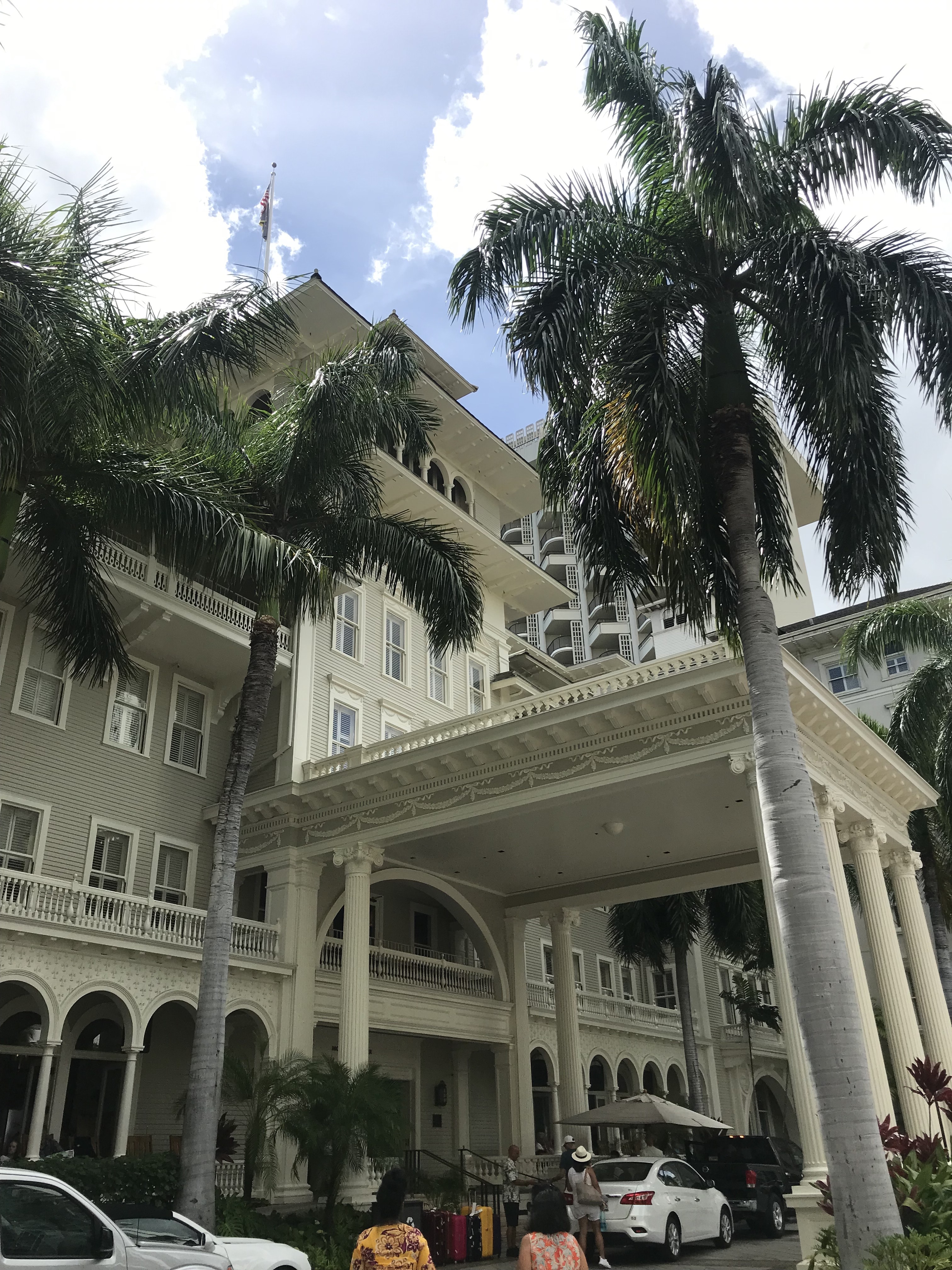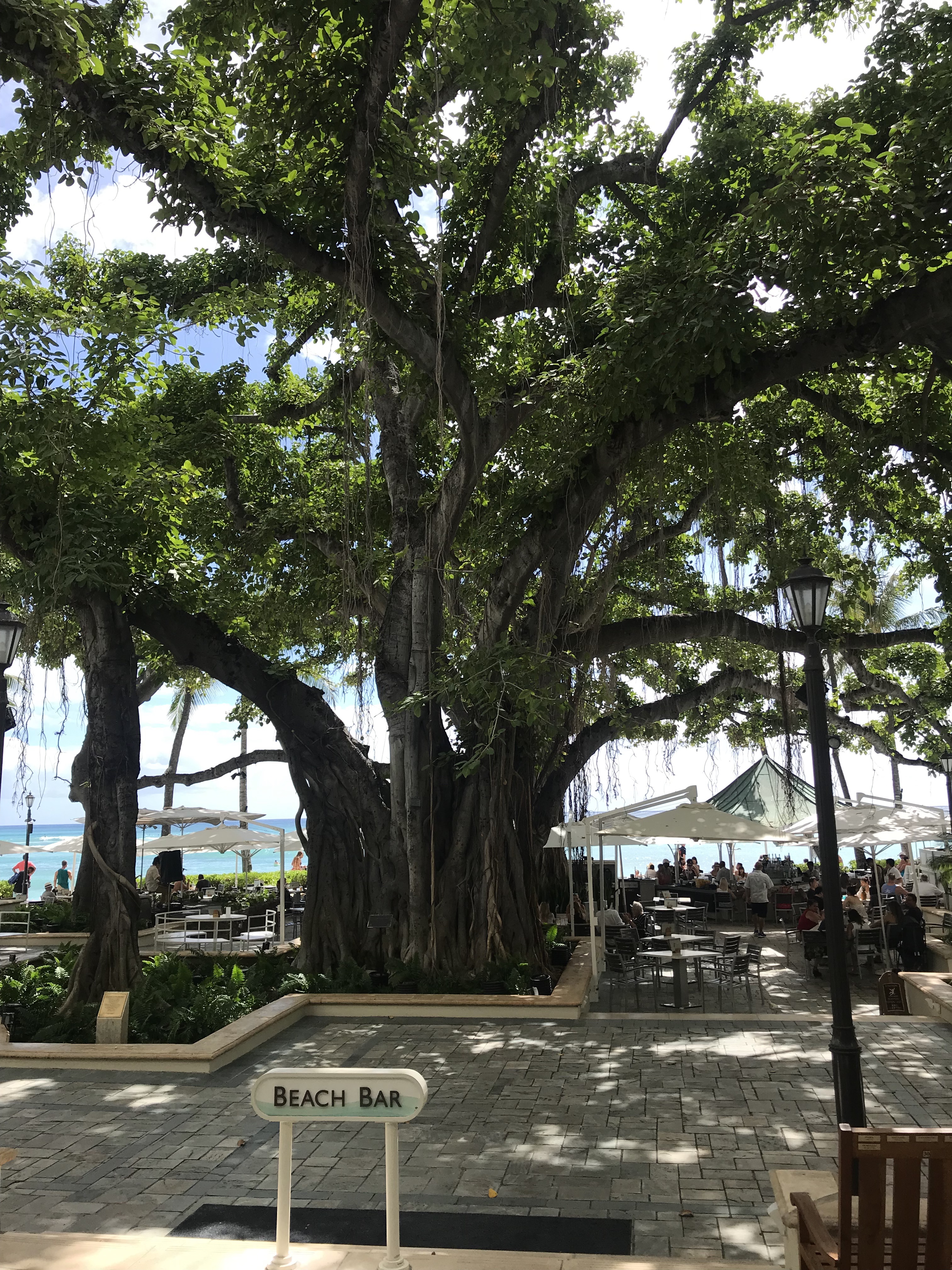 One thing you won't be able to miss is the miles and miles of high-end shopping malls (understatement of the year). Back to back to back malls on malls on malls. People get excited because Hawaii gets new stuff before the mainland USA. It's not really my thing, but I did have a life-changing experience at one of the shops in the mall and I REALLY want you to have it, too. It also happens that in that specific mall, called International Marketplace, there is a great little healthy food spot called Indie Girl Wellness Bar, AND a massively gorgeous tree INSIDE IT! It doesn't feel like a regular shopping experience, that's for sure.
So definitely, definitely go to AESOP. Ask for Carina. Have her wash your hands for you, which she will openly offer. Have her share some face and body oils with you, which she may offer as well. If it makes you more comfortable, tell her I sent you! It's an experience. You won't regret it. I bought the entire skincare line and I use it every. single. day. Game changer!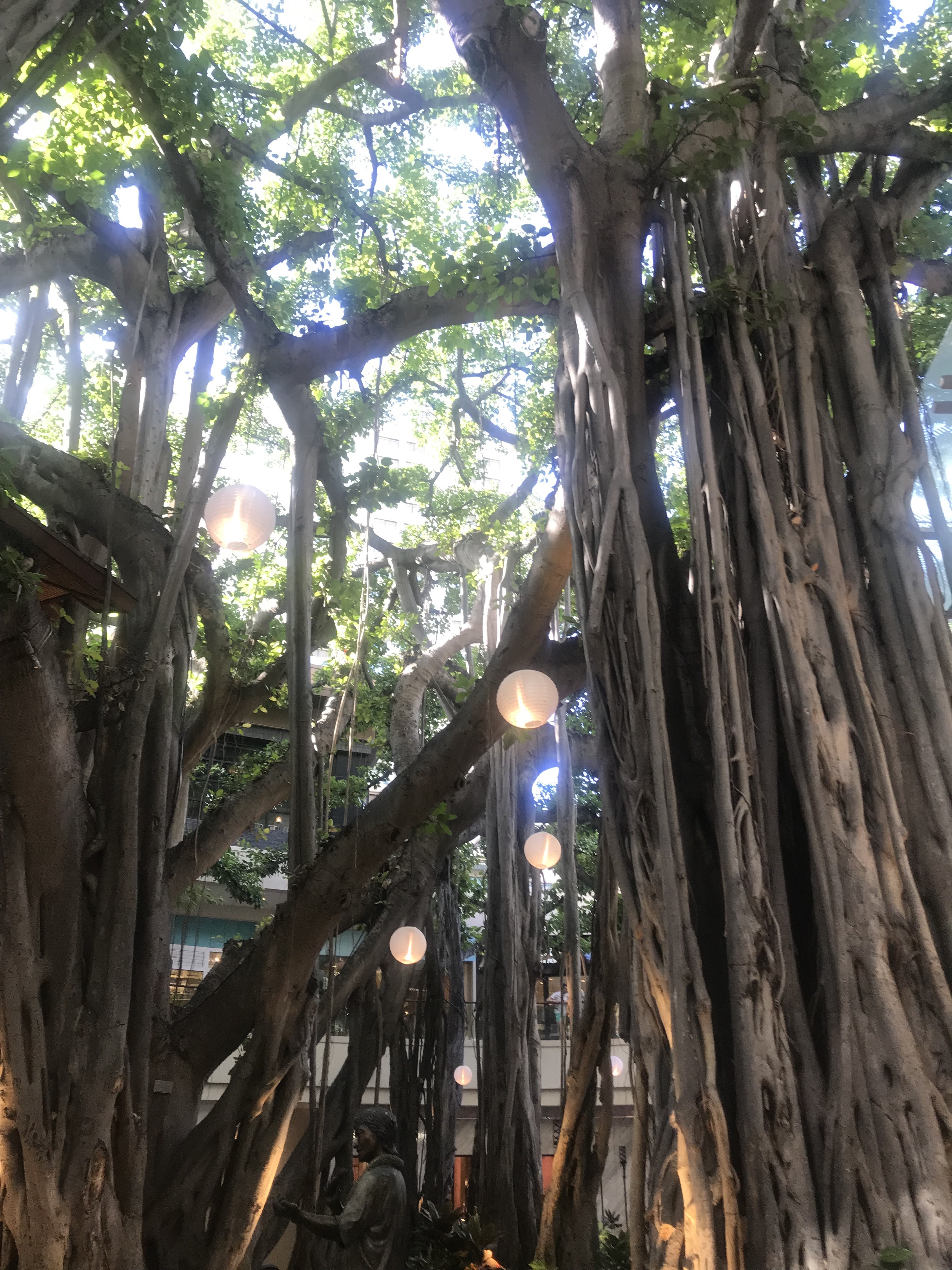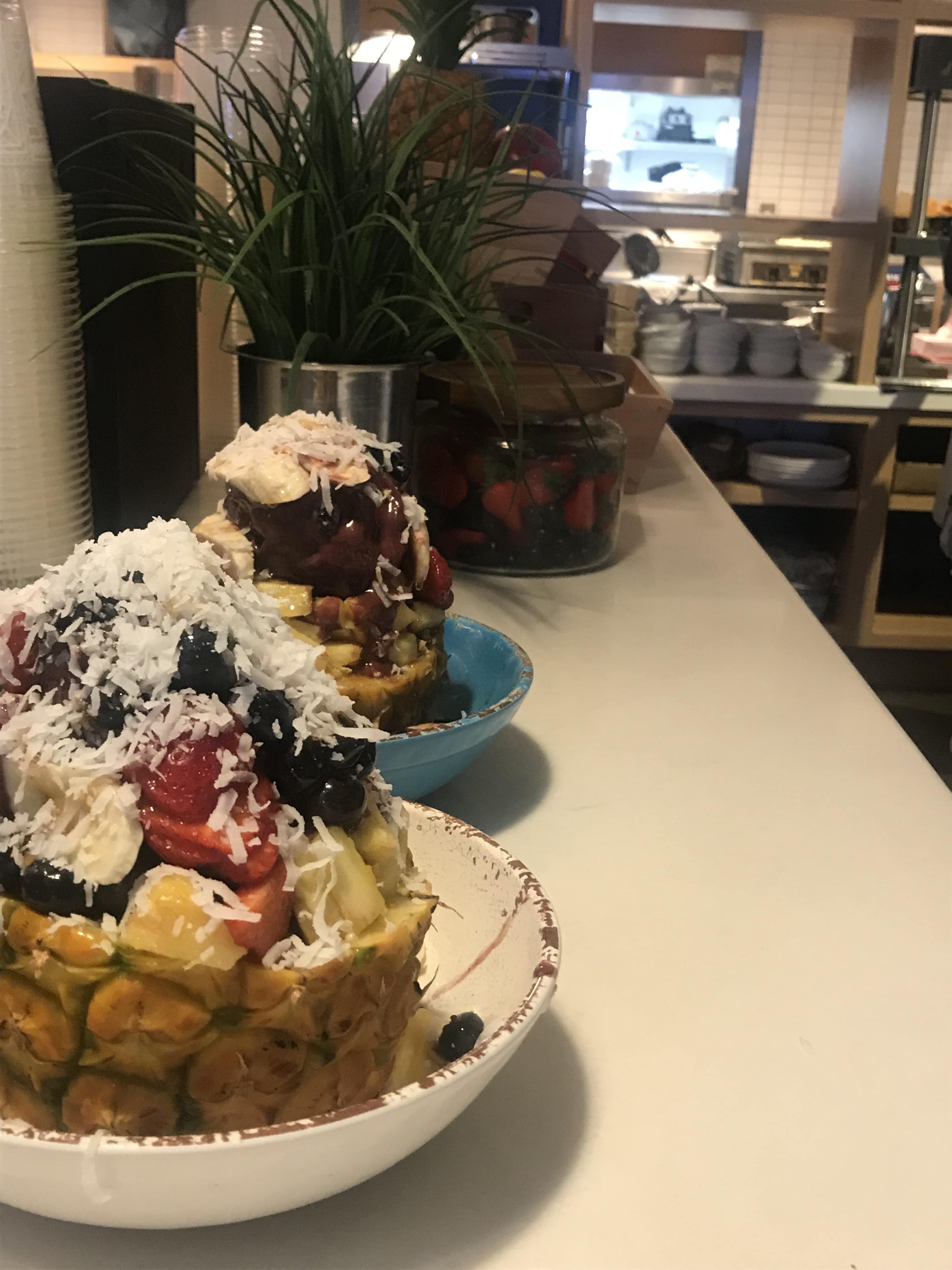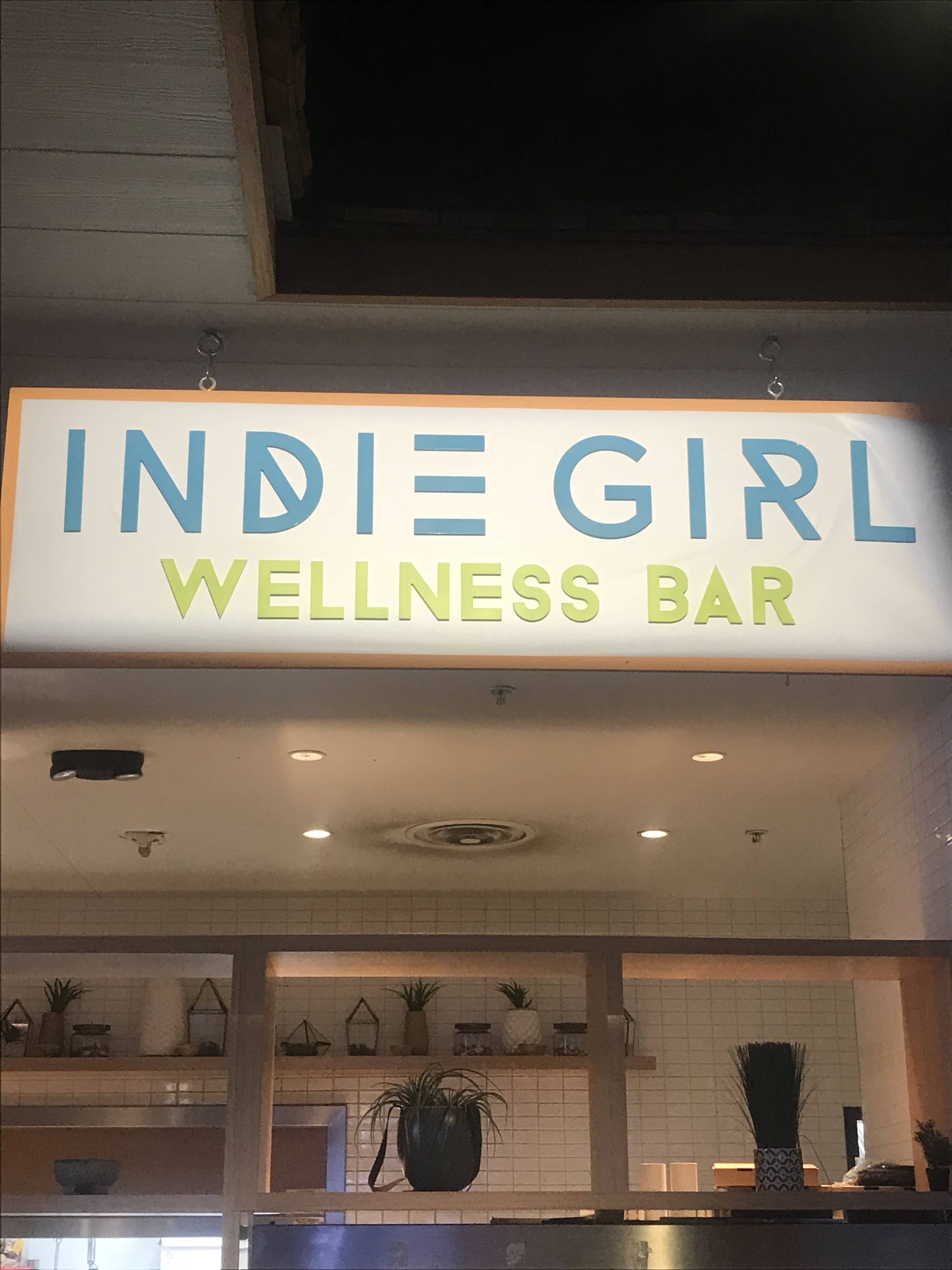 As if there was a question, try to stay close to a beach. I stayed within walking distance of Waikiki beach at the Aston Waikiki Sunset Condos (Thanks to my absolutely amazing friends Ricara and Maryann!). Being two blocks away from the most incredible natural beauty like that starts off every day in the best way. Waikiki is totally walkable. That alone just brings me joy. I want to walk EVERYWHERE and see the sights, and the smells, meet the people. Stop along the way for a bite or a dip in the ocean. The last thing I want to be in is traffic (and they totally have that).
I did rent a car, for two of the six days. They have a little trick that they like to pull which is "if you take it from and return it to the airport it's affordable and if you don't, it's expensive and you pay an airport drop-off fee." My advice? Negotiate it. Unless you want to keep it simple and just get a car the whole time and pay to park it that's fine, too. Hertz waived my $75 airport-drop-off fee. I was also told by an expert (MaryAnn!) to book online at costco.com and watch for price drops!
The drive may have been the best part. The North Shore is famous for local garlic shrimp food trucks. I didn't try it but I loved some pad thai from a food truck, surrounded by adorable little chickens.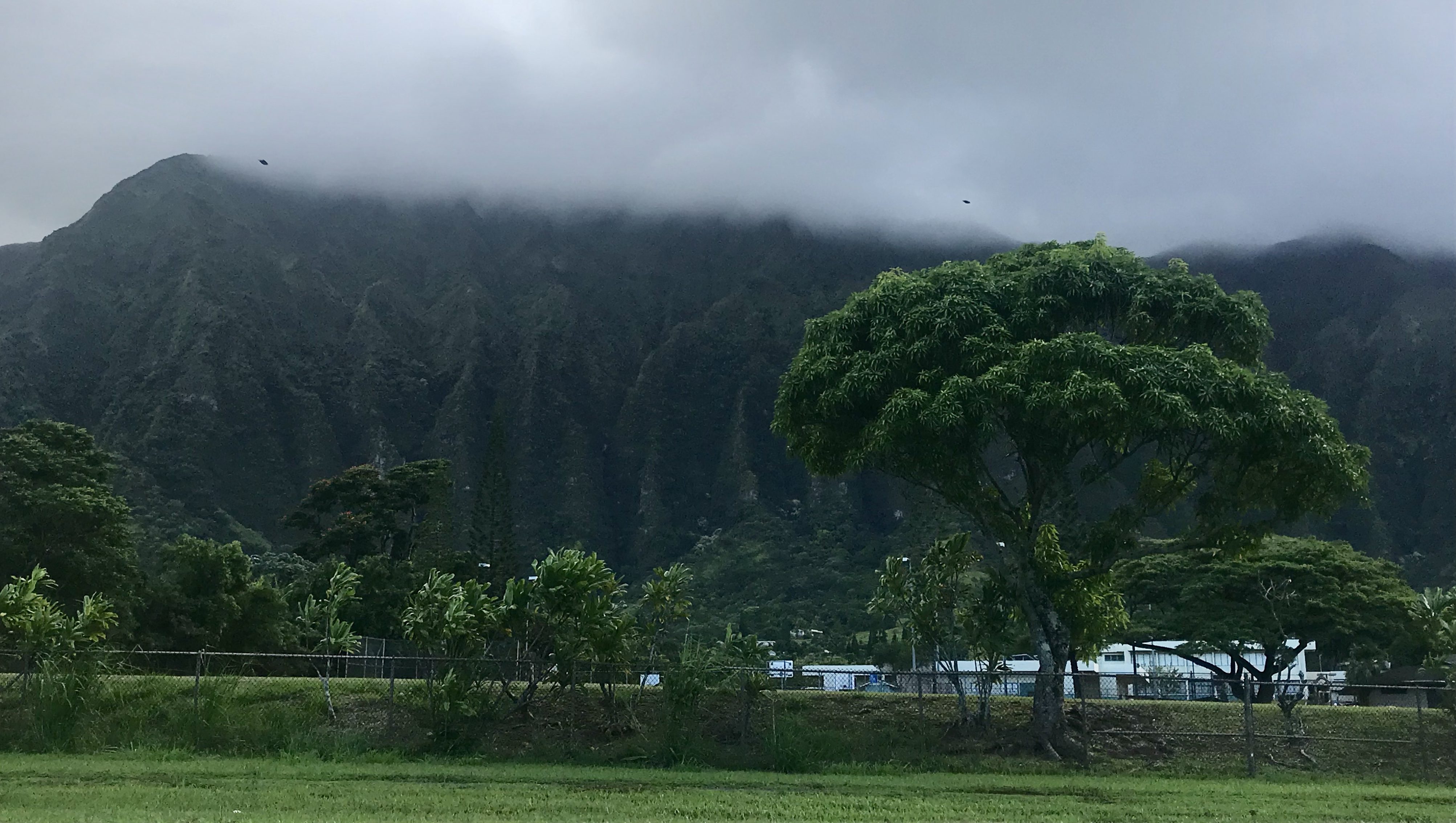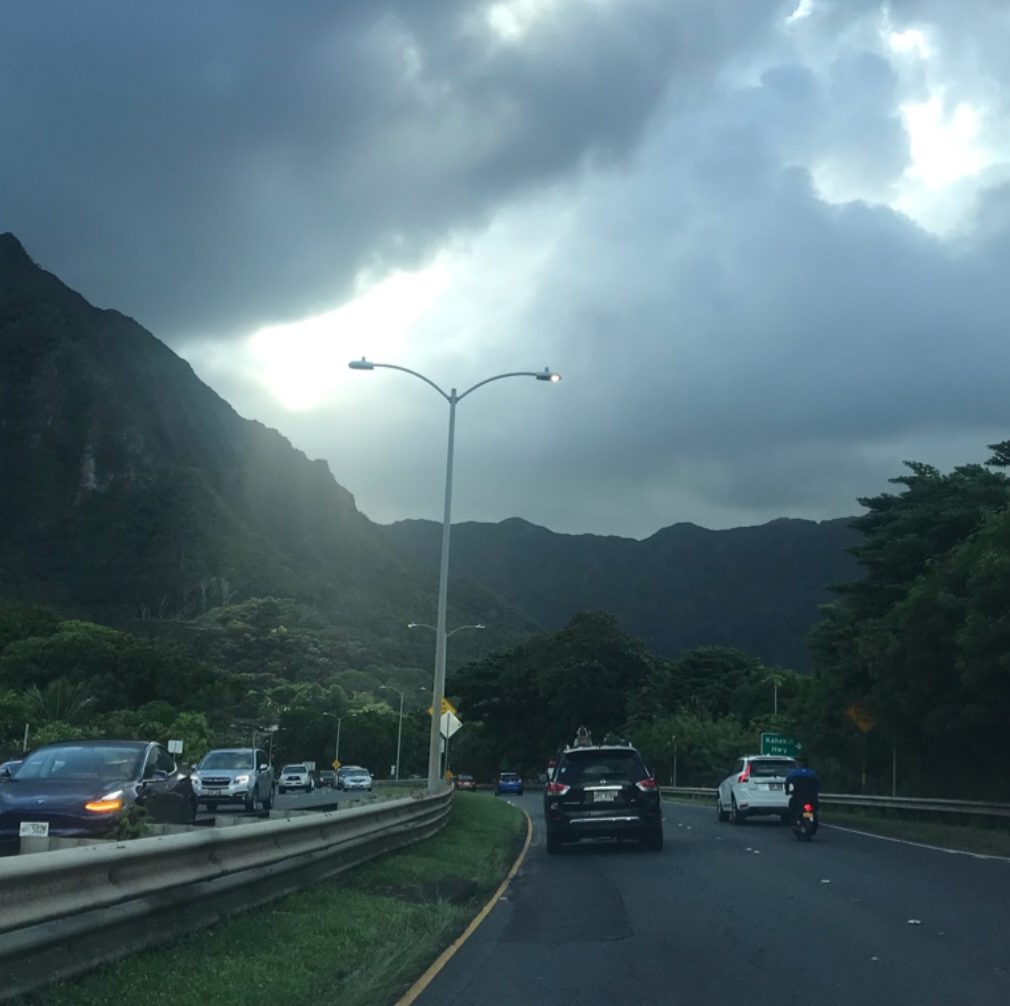 Be sure to drive to the North Shore! The North Shore is my favorite. Pack the beach towels from your hotel. Do you want the buzzing hustle bustle or do you want peace, quiet and turtles? North Shore is like being on the moon in my opinion. Technically I took too much time on my drive, so I didn't get there with enough daylight (also people drive way below the speed limit, which is probably good unless you're chasing the sun). I'd spend way more time up there next time. We caught the sunset at Turtle Bay. Didn't see any turtle views though, and still totally worth it. The cabanas up there looked great – right on the water at the Turtle Bay Resort.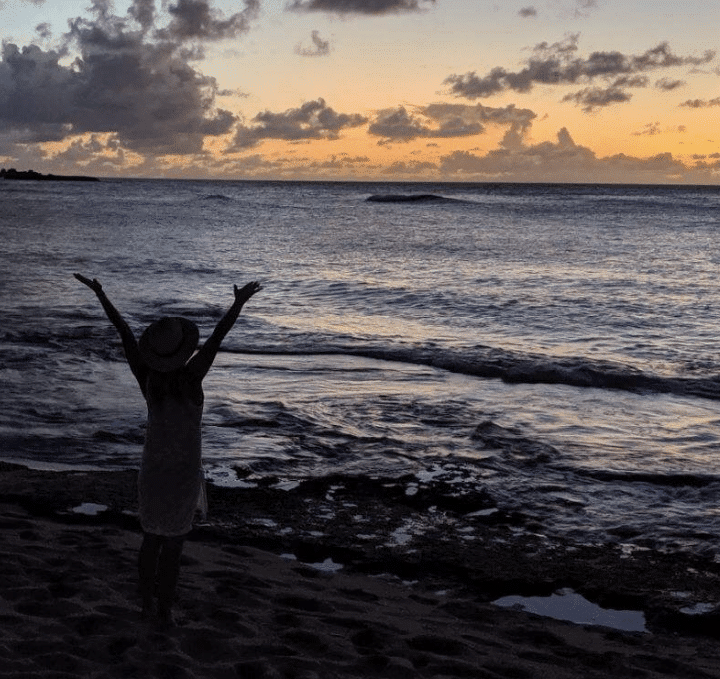 I also stopped at Makapu'u beach which was phenomenal, as per the hotel concierge recommendation. Smaller but mighty. It's out of the way but I really enjoyed the drive around the island, down the south side around to the north.. the drive as a whole may have been my favorite part. So much to see, and little stops that are not busy tourist destinations.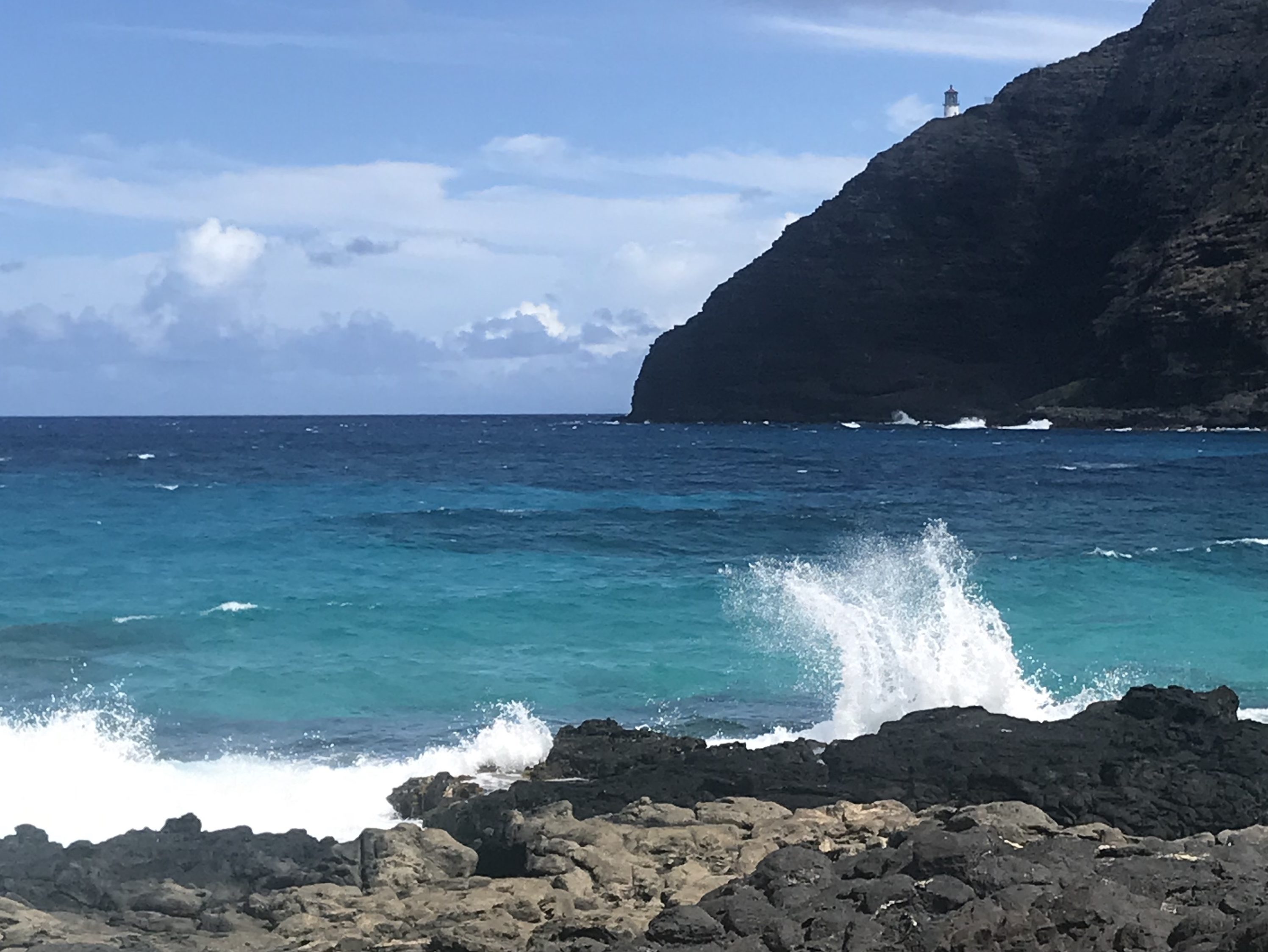 If you like to hike, you gotta check out Diamond Head State Monument. It's not too challenging, but it's narrow at times and there are a lot of people. There are a ton of stairs at the top, but I am told you can go around them. We went straight up! This also might have been my favorite part of the trip! I hear they have a "lighthouse hike," too and that the "Koko crater hike" is almost impossible. I obviously have to do that one next time!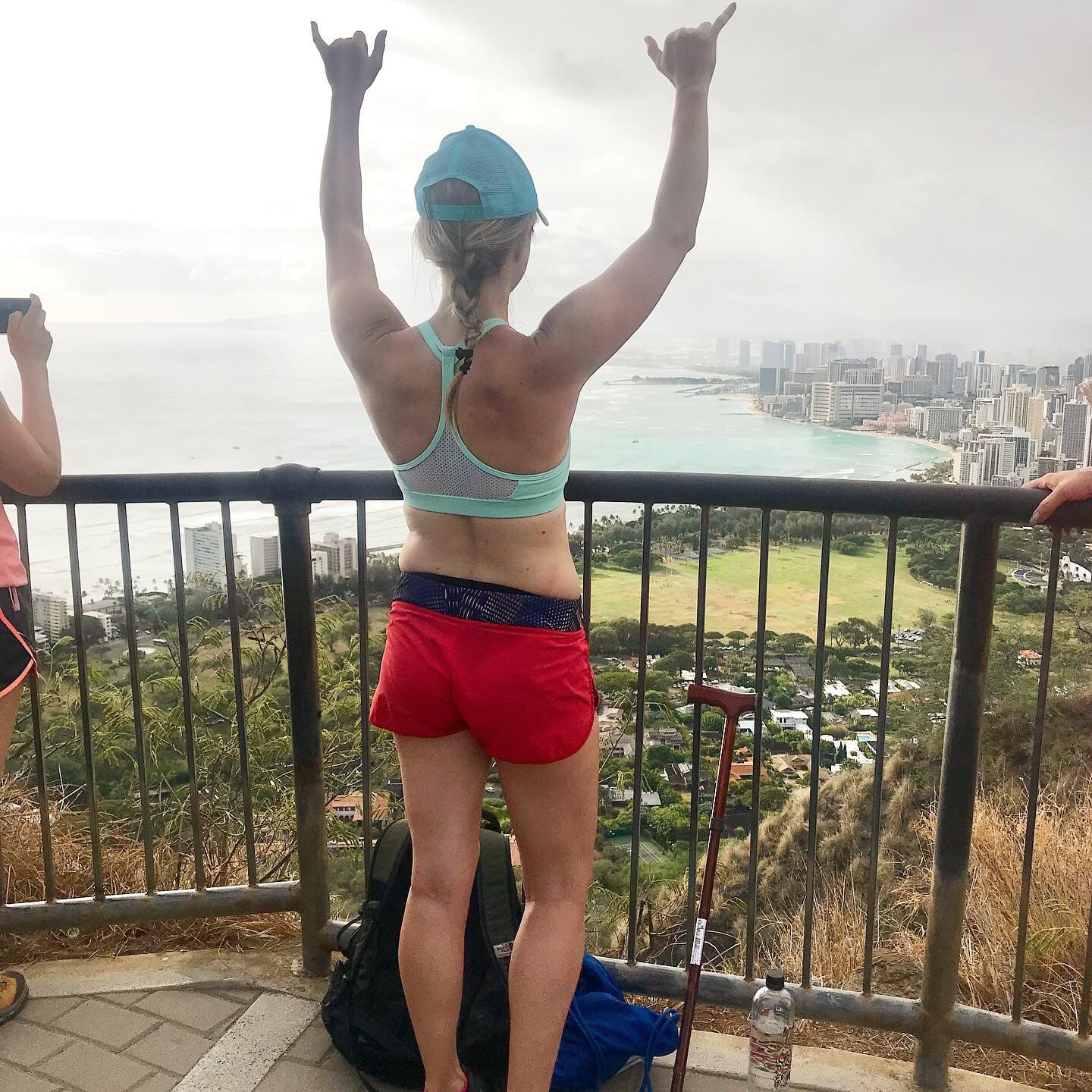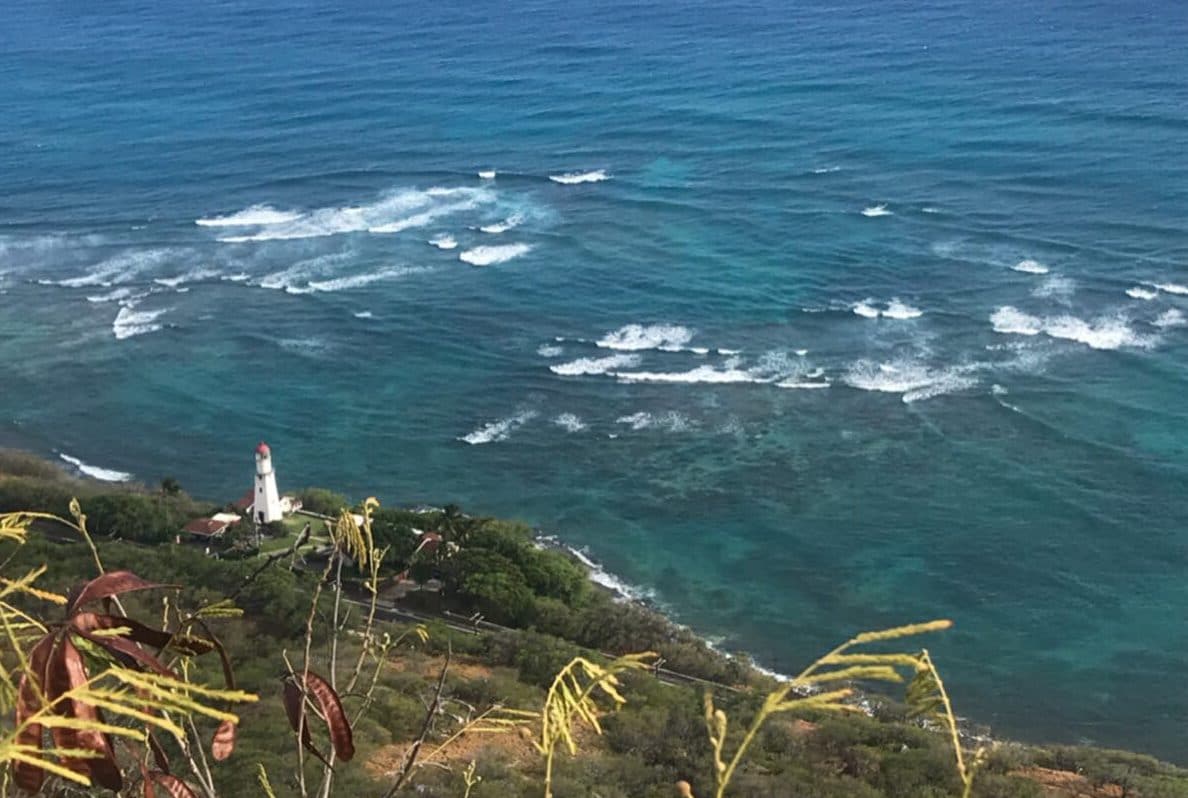 I also heard that Diamond Head has a cute little town with the very best acai bowls and a fun little spot called Ars Cafe. Right down the road from Waikiki.
We were on a boat! We did the Mai Tai Catamaran and it was awesome. 90 minutes with drink options, and it goes fast over the ocean blue. Lots of people will fly by on other boats giving you the hang loose sign! Hawaii is so chill. I'm so glad Maryann invited us on the boat.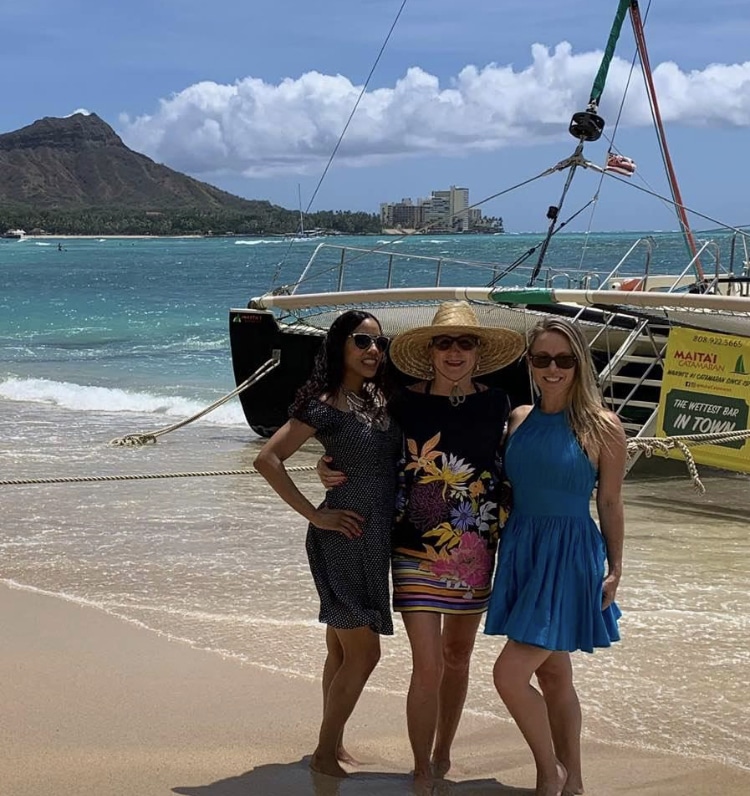 Let's talk about my favorite food moment. 'cause you know that's always on my mind, and I want it to be GOOD!
Duke's and Duke's and Duke's again (in Waikiki). We couldn't get enough. SIT IN THE BAR AREA! There will be droves of people around the hostess stand. Walk by them, go grab a table with a view of the sunset in the bar area. First come, first served but it's not too difficult because the place is HUGE — and somehow they've managed to have the BEST FOOD I'VE HAD IN A LONG TIME. They are particularly famous for their fish tacos. I repeat…
We also went off the beaten path and found some yummy Thai food (via Yelp), the vegan sushi at the Marriott was half-off during happy hour but it was pretty basic. Their views are amazing though and they have a nice pool and FREE yoga classes downstairs inside the Lululemon store at 8am. We stocked up on stuff from the Waikiki Safeway, which was a little pricey, but it was nice to have some tea, fruit, oatmeal, lots of water, etc. since we had a kitchen in the condo.
Wanna get souvenirs? Go to the local swap meet! I got some awesome Hawaiian spices and salts, a super fun star lamp. They have jewelry and lots of other great stuff, and it's less than half the price of everywhere else. They have beautiful Hawaiian plants that are allowed through the agriculture check and come with care instructions (photo, below). It's called the Oahu Stadium swap meet, costs $2 to get in and free parking. Just make sure there is not a football game that day or they'll close early. I am not a big shopper but I like authentic stuff and supporting locals.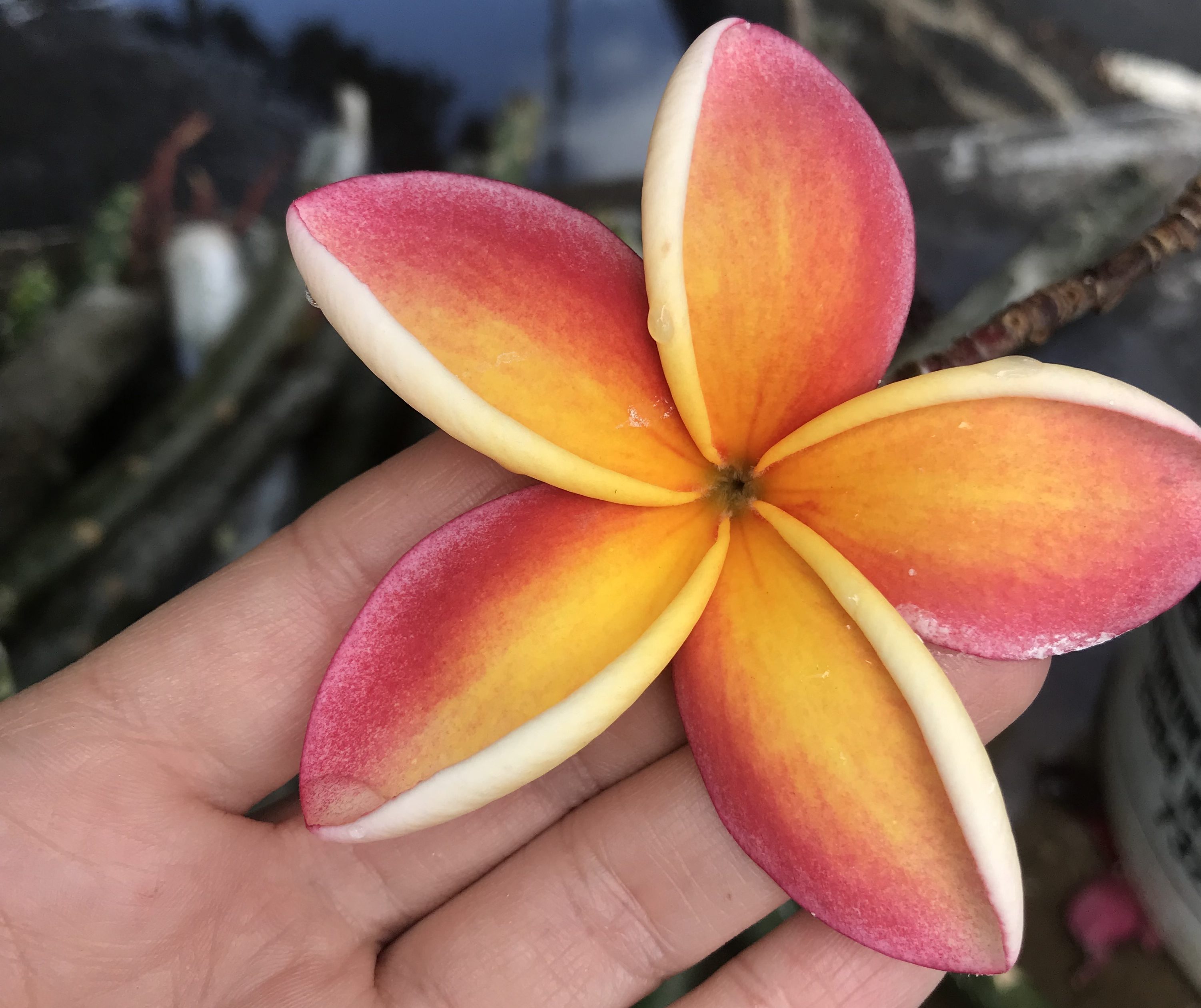 Big side note — The swap meet is somewhat close to an amazing healthy market!! Called Down to Earth. Their motto is: Cherish the Land, Live in Healthy and Harmony. I mean, this is my place! Tons of options — definitely try their homemade vegan sweet potato veggie burger… and maybe a vegan chocolate chip cookie 😉
Stock up on food for the plane or the hotel! It's that good. It's also a grocery market. This place beats Whole Foods by a MILE, and then some. Treat yourself to their goodness!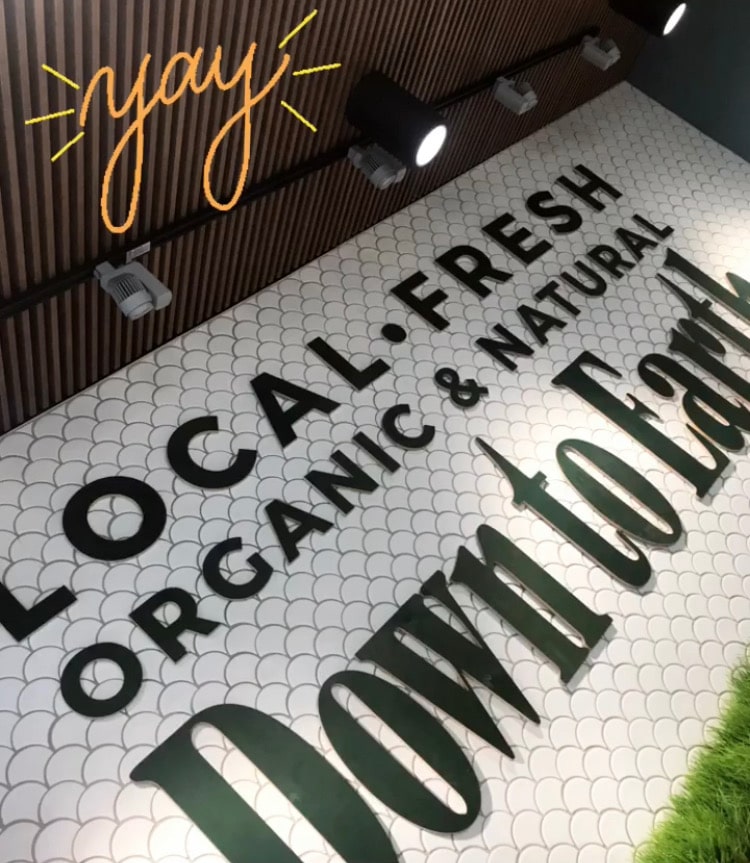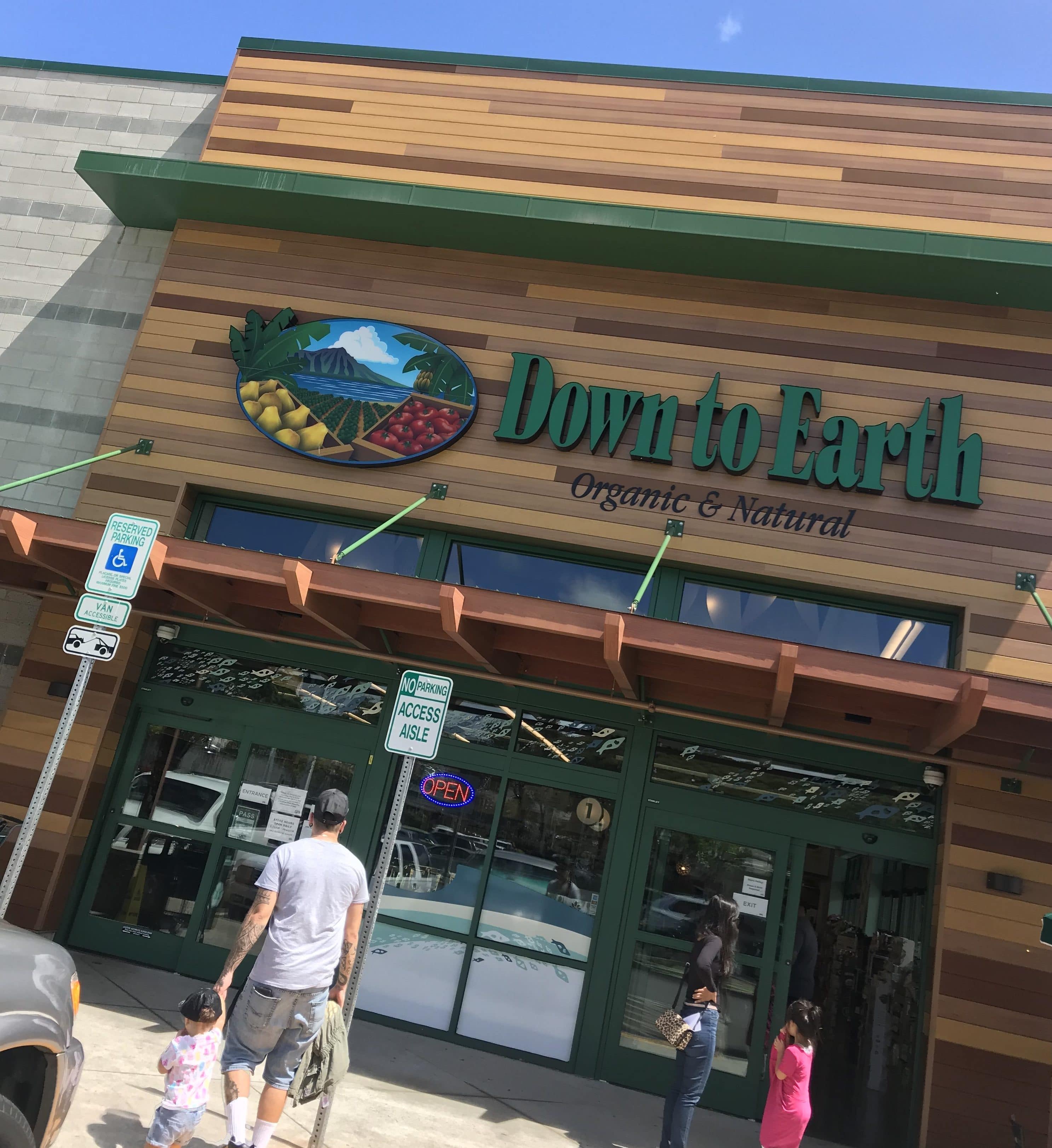 Day-to-day wherever you go, talk with the locals. People are open there. They are laid back and friendly and interactions are nothing like the busy Bay Area. They are kind and take their time and act as they care. At shops, say hello and ask for recommendations. The guys at KAI Coffee in Waikiki are particularly cool.
While you're there, prepare to see some of the most amazing sunsets — and it's just as fun and magical at night! The water and the air stay perfectly warm. The hotels on Waikiki have some cool shows going on in the evenings, too, which you can see from the beach.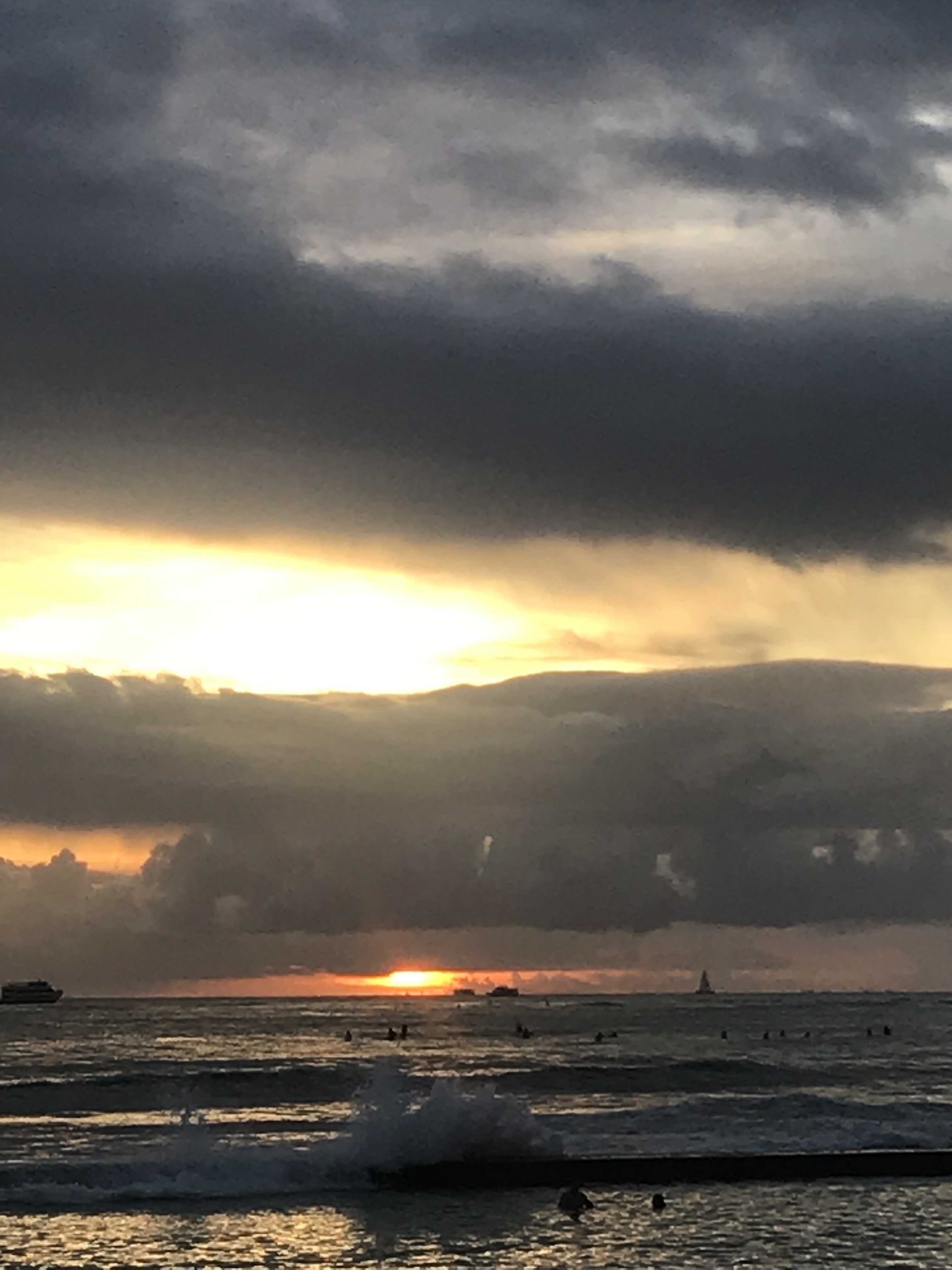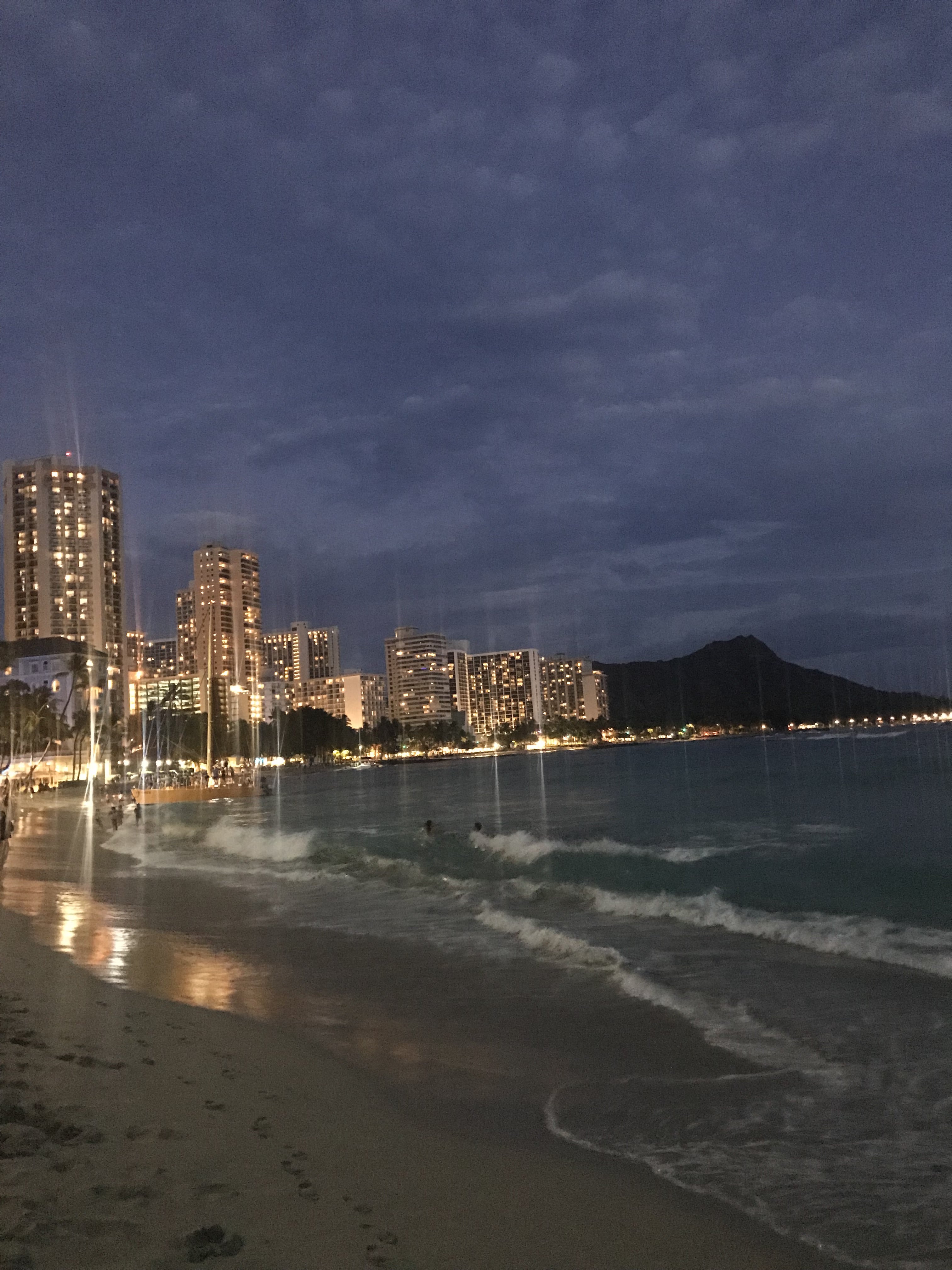 I would be remiss not to mention the homelessness happening around Waikiki. I talked to one man for a while who moved to Oahu with a pension from Missippi when the steel plant he worked for moved overseas. He wanted to relax and live simply, and now he can't afford a good place and it's not safe to camp, he said it's very dangerous for people who sleep outside, which is really unfortunate. That said, I never felt any kind of danger (definitely not more than in the Bay Area), and I felt only kindness from everyone I met during my entire time there. They recently passed a law that outlaws owners of short-term rentals not living on the island to support the people who do live there having affordable options, which I think is great for the locals! You might see some for-sale signs for that reason.
Please, please, please, notice the trees in all their big, green, wild wizardry. It's like they spouted from the ground because they knew people needed endless amounts of shade. They are a unique species all their own, in my opinion. Take in their majesty.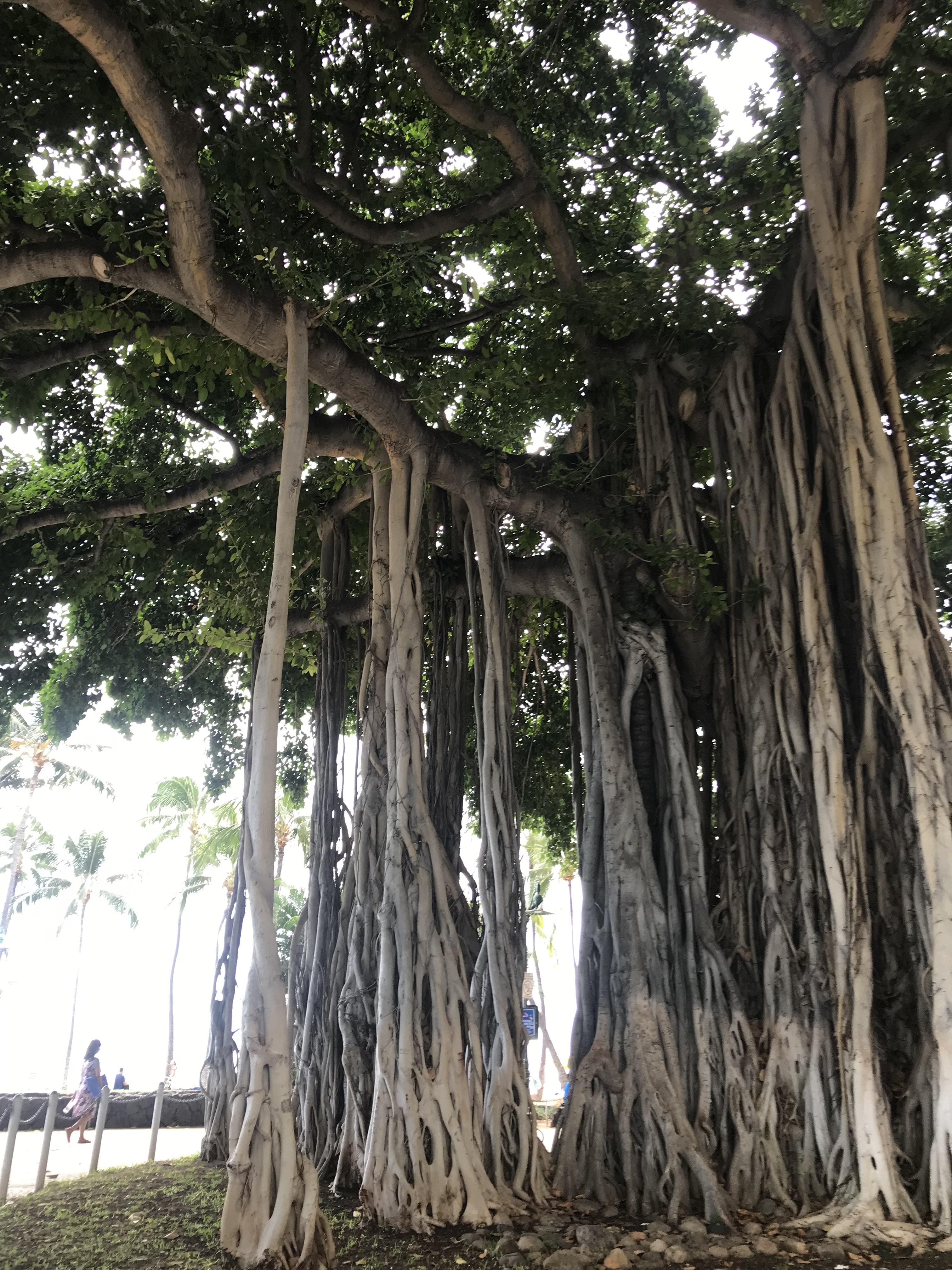 There are lots of trendy hotels in Waikiki with some fun edgy vibes and art deco designs. I worked from the Knots Coffee Shop in the casual open-air lobby at the Queen Kapiolani Hotel and had delicious avocado toast with tomato jam at the trendy boutique Surfjack's restaurant, Mahina & Sun's (for $18 btw), both in Waikiki.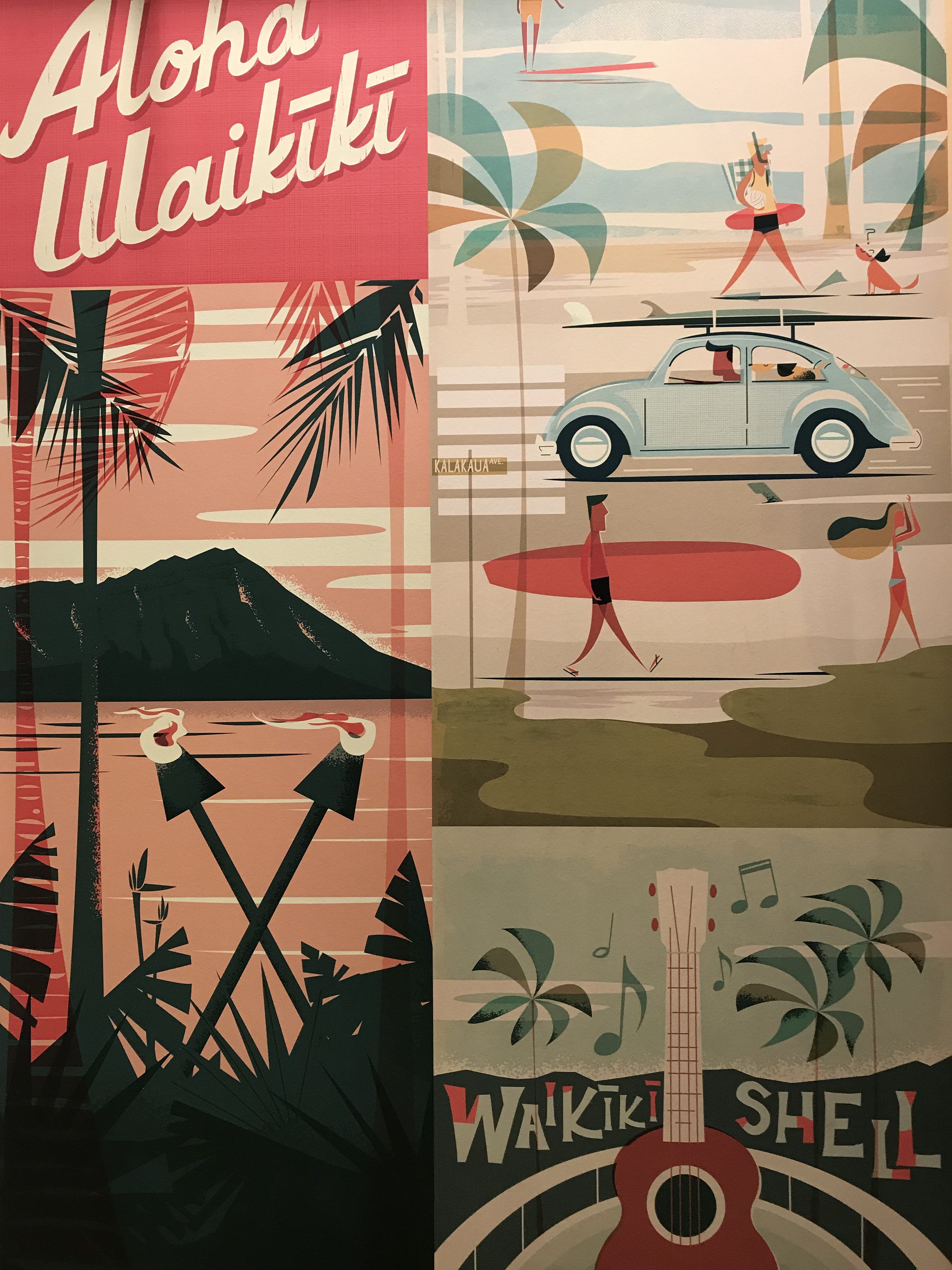 Oahu was a dream come true. So much to do! I wish I could have stayed longer!
Next time I would do a lot more in the water, and I'd make it to Pearl Harbor and Shangri La, too. Maybe see what the nightlife has to offer.
Hawaiian living is so easy and so natural. I like an off-the-cuff approach to travel, which you can probably tell. I don't like a lot of tourist activities, and I like to get a feel for the local culture as much as I can. I love to get outside and feel the sun and the water – and sweat! Even though Waikiki is packed with people (which is not my favorite thing) I was so captivated by everything around me, I really didn't notice it that much. You'll be surrounded by opportunities for physical activity, amazing nature, nice people and healthy delicious food! It's hard to not be inspired in a very big way.
I hope you take in every breath with total presence and let it fill you with wonder.
Aloha!
XO,
V