I have returned from Spain in one piece, even after booking a mysteriously affordable $127 direct flight back to SFO from Barcelona. It was, in fact, a real flight, as many of my friends were wondering. I had to pay for my hummus plate, and I am NOT complaining. It was great!
One of the biggest lessons that travel will teach us is patience. Am I right? When you begin your journey.. there's just a lot of waiting. Waiting for your uber, waiting for your train, waiting in line, waiting at the gate, waiting in your seat, waiting to deboard, waiting for your connection!  It could be enough to make someone crazy.  Fortunately, I am obsessed with downtime. It's true. I use travel as my opportunity to cash in on it. Here's how:
For 1, I follow this awesome pre-packing list to set myself up for balanced blood sugar success (aka sustained energy, balanced mood, no anxiety!), which is essential (arguably the most important thing).
2. As I sit and wait, I notice how nice it is to not be rushing, going, moving, responding. I get to JUST SIT, and I can appreciate that. Especially in a warm airport with all my things with me, I am good to go.
3. I use a touch of tech. I am not a big tech fan overall. I abhor "notifications" if that gives you a sense of my feelings about it. No wifi on the plane equals total peace and freedom in my book. Kindle, and Netflix? Absolutely.
3. a. I love books and shows. One the flight I thoroughly enjoyed reading Woman Code, and Forgotten God, and watching The Crown season 3, and The Irishman. (That last one made me cry.. a lot). All of my favorite books can be found here.
4. I stay warm! Why are they always trying to freeze me out? See that awesome pre-packing list for my fav' warm goodies.
5. I consider the Louis CK skit where he impersonates passengers complaining about their legroom while they are sitting in a chair that is magically flying through the clouds in the sky to their desired destination. Perspective noted.
6. I hit a snag during my layover at Chicago Midway Airport. I hadn't packed an actual meal for the day and it was a big mistake because the Chicago airport food options were unfathomable.. beer, beer, hotdogs, meat, meat, beer, pizza. Honestly. Chicago, WAKE UP! (I love Chicago my family is from there). I eventually got a pita (and they refused to add hummus to it and didn't have any hot sauce so I chewed luke warm pita bread and fried dry falafel for lunch). Rude! I thankfully packed some of my favorite seed crackers (Trader Joe's GF Norweidgan Crispbreads) with an almond butter packet. That helped because of the healthy fat and fiber.
Sidenote: Instead of sharing my frustration with the airport staff, I texted my bestie, Kelly, whom I was meeting in Boston and asked to have lots of yummy plant-based food at the ready for my arrival (like that was a question), and she did! Huge, loaded vegan guacamole burgers with quinoa salad and sweet potato fries on the side from By Chole. Nailed it, as always. Hello, Boston!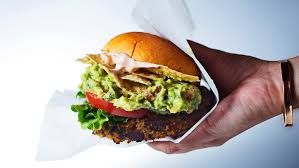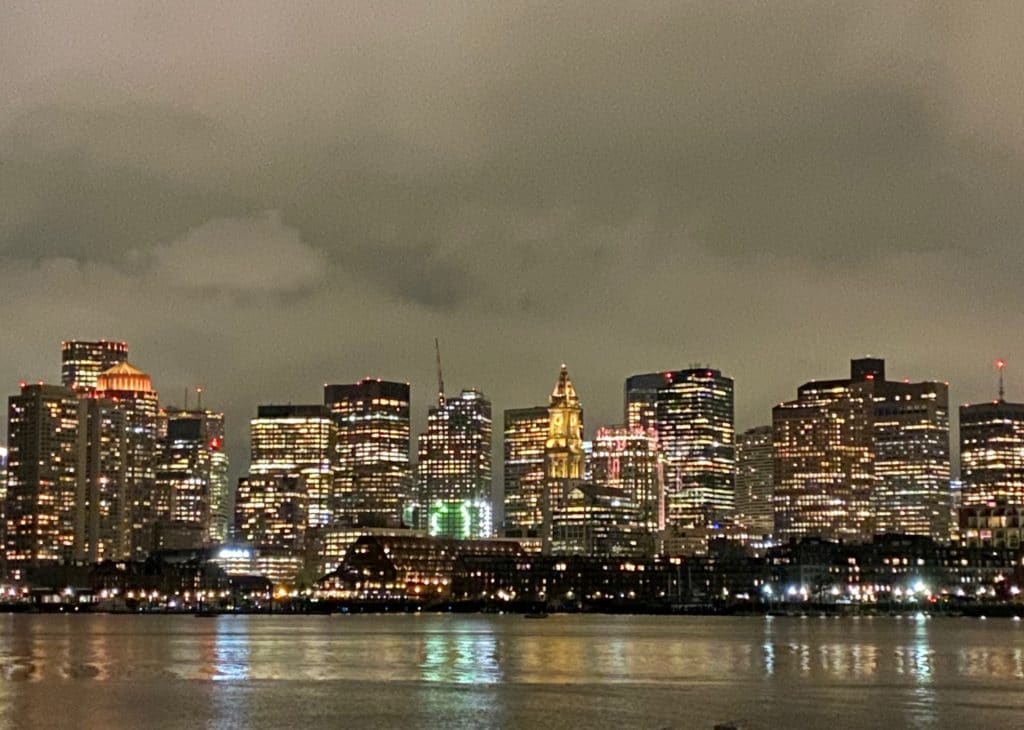 Bale, bale, as they say. Off to Sevilla, we go!
The entire trip was fantastic and seamless and I owe a HUGE thank you to Kelly. First of all, the trip was her idea. Thank God, because I certainly needed it! How had Spain been fully existing without me getting to experience it for all these years? Secondly, she had a shared google spreadsheet and daily agenda in the works for us before I could say, vaminos. How lucky am I? #thisisus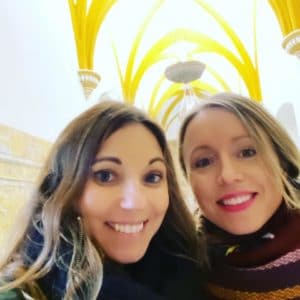 The thing that motivated me to write this piece about the trip came from some Instagram story comments I received responding to my food photos. You lovely people asked to see the food, and some thanked me for showing some flexibility around my plant-based eating. I'm so glad you did! Let's dive in.
What you need to know now: No Vegan or Plant-Based Diet is Perfect.
Period.
And that's OK!
Getting your sleep schedule primed for your new time zone is not easy, and it will make or break your time abroad. I brought some melatonin and did my best to snooze on the flight to Sevilla. A disrupted sleep cycle is pretty hard on the body, but we want to see the world, so it's worth it. Make sure to get enough sleep at whatever time is closest to the new timezone schedule, and lots and lots of water. The mini GoFiltr that I added to my water bottle was our best travel companion. Clean and alkaline water anywhere, anytime.
We got to the hotel and dropped our bags, did that fake-shower-in-the-sink thing, and walked the incredibly beautiful streets, which took our breath away. Also, of course, we needed some coffee and food! (I don't often have coffee, so it was a nice little treat that was also going to help me adjust to my new time zone).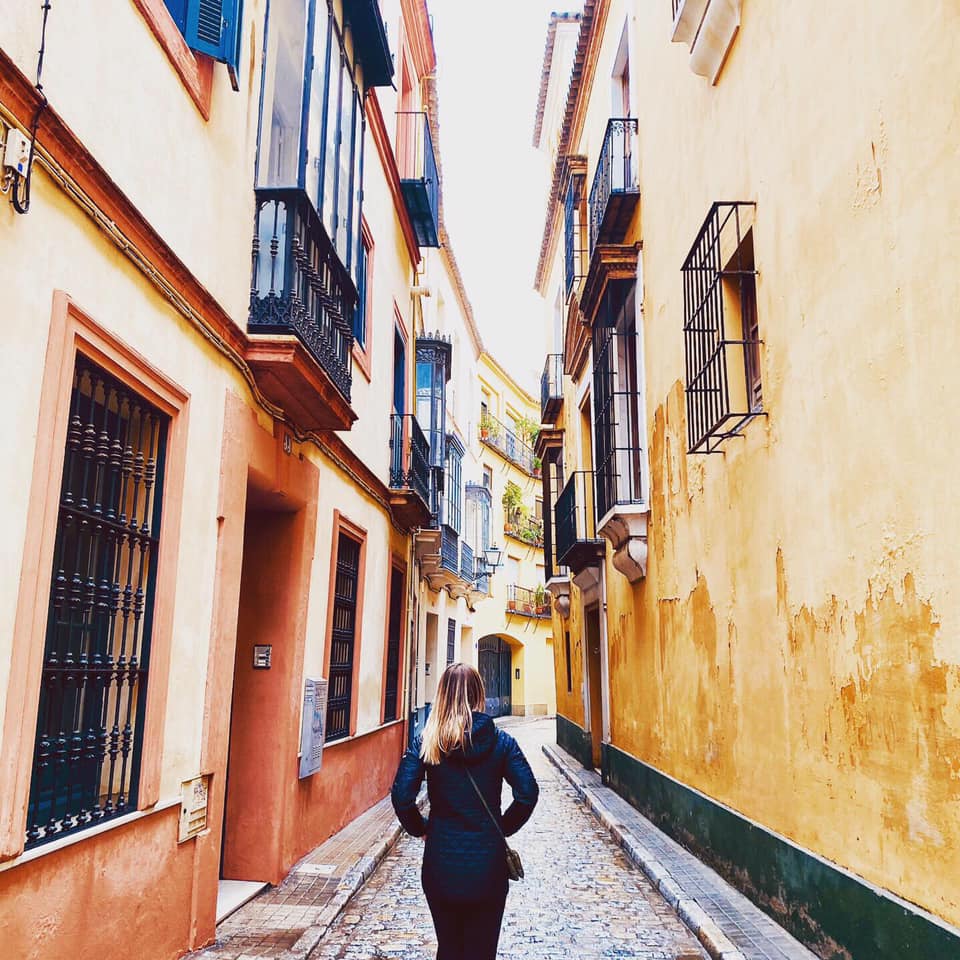 We stopped at the first adorable place we saw and had a croissant and granola with yogurt and fruit, latte and espresso. It may not have been the perfect meal, but maybe it was. While I don't like cow's milk and that came in the latte, it served its purpose and we enjoyed every drop. We noted the bright, bold, friendly and relaxed culture all around us. The chill in the air, and the plants and flowers filling every window.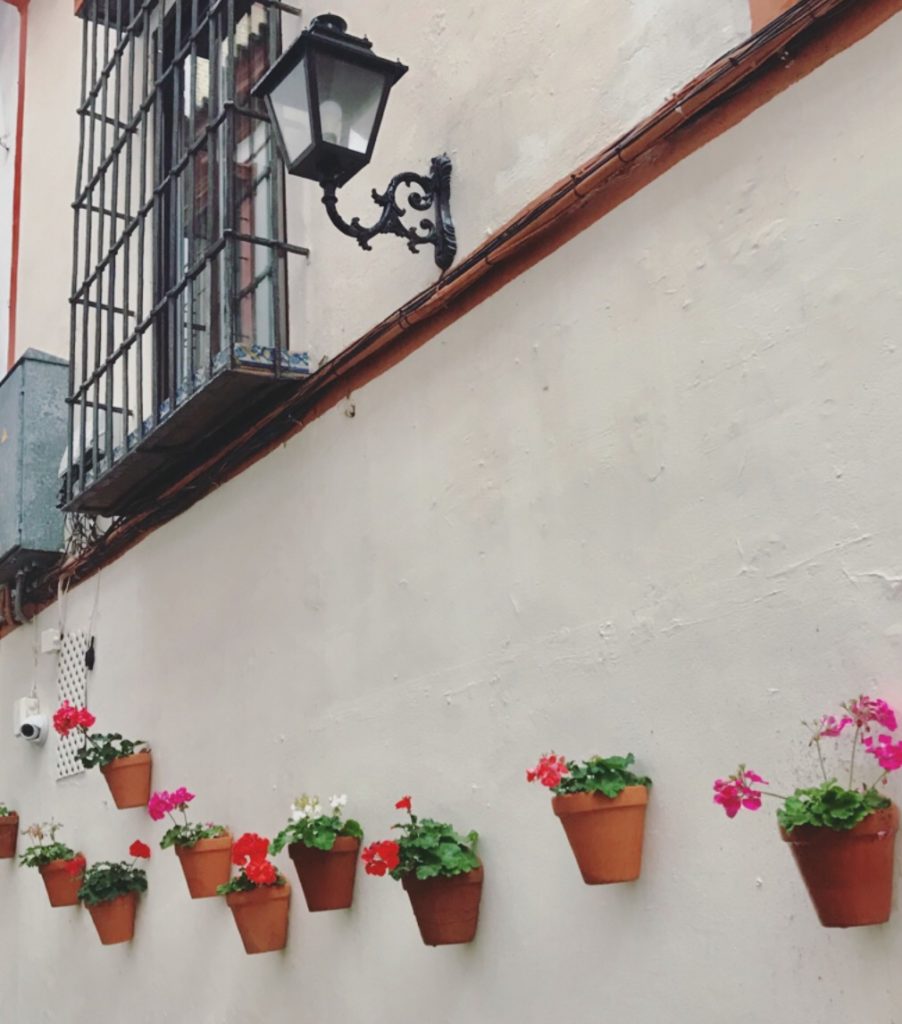 I believe that Europe has a higher quality of everything, so I chose to relax about food the entire time. I personally wouldn't be eating any meat and neither would Kelly, but we were both flexible here and there in our own way. For one, I decided to track down some nondairy milk, and I'm glad I did. I looked up a coffee shop called Jester, and it did not disappoint. This British chap told me how to say the name of each non-dairy milk in Spanish, which came in handy.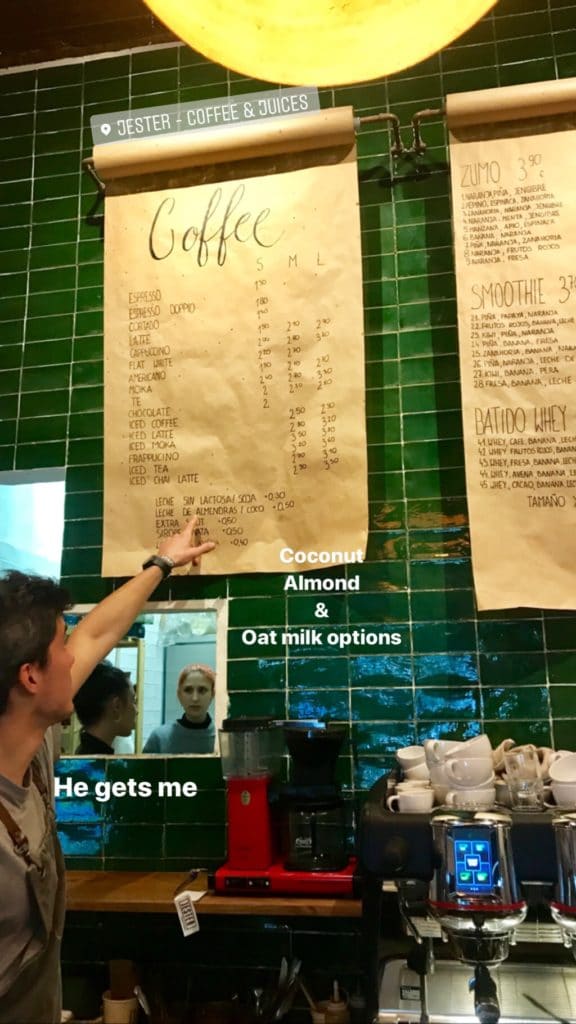 We walked and walked and walked and let Spain show us what she was all about, and boy did she ever. Everything about Spain is captivating and it's not because that was their goal. It just is. Beautiful, impressive and effortless.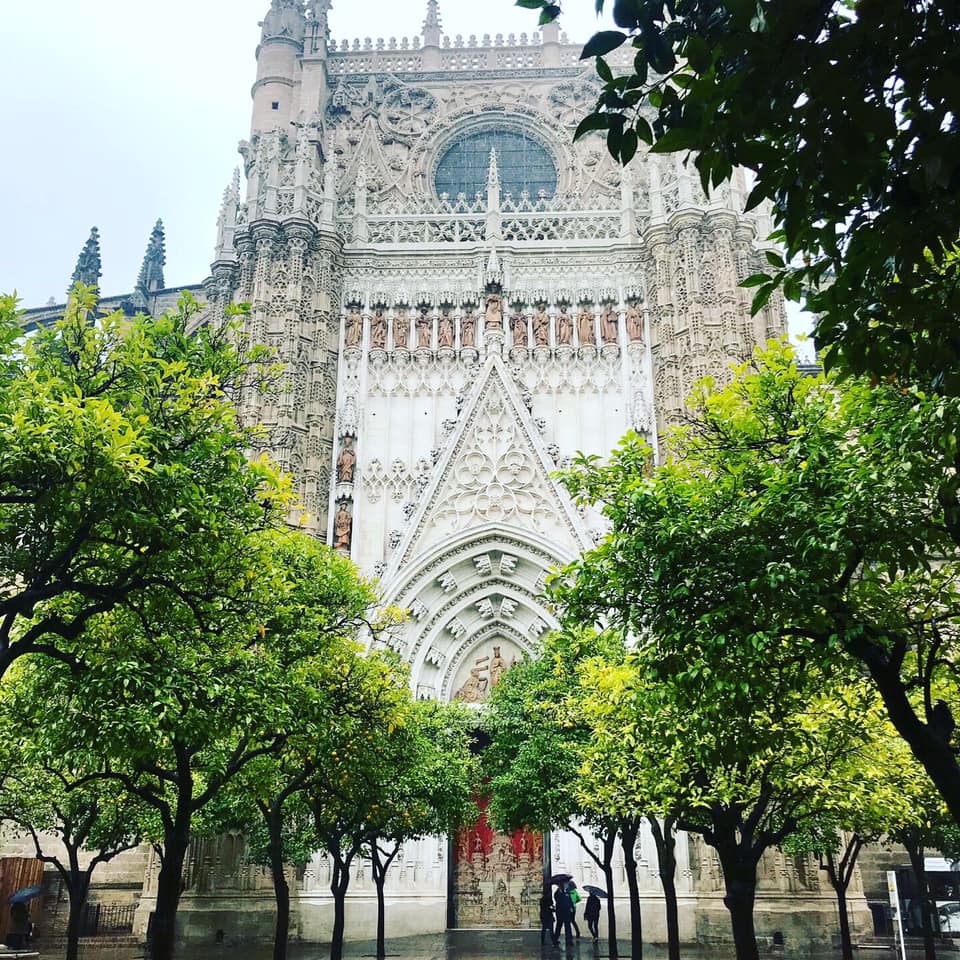 We ended up averaging between 20,000-25,000 steps, which I don't normally track, but I was happy to see it! We walked through the largest Christian church in the world, and up 34 flights of stairs to the top of the tower, we walked through stunning parks and around beautiful lakes, through warehouses decorated with abstract art, and through the cobblestone streets, each one more windy and unique than the last.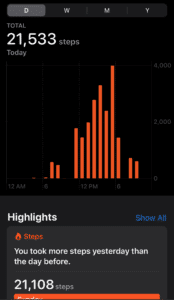 On our awesome spreadsheet, we had a list of restaurants we wanted to find and we also popped into those that looked inviting along the path.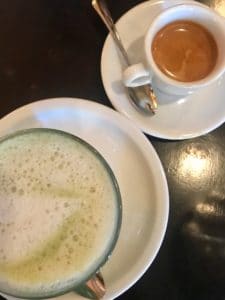 In Barcelona, we found a ton of fantastic plant-based food options, lots of different types of food, and even matcha tea lattes with oat milk. *Happy dance*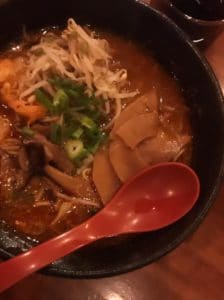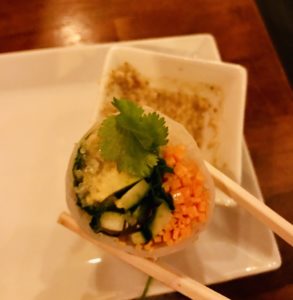 I found the incredible restaurant, Resoterra, on a blog, but wow, we did NOT know we were in for something so special; one of the best vegan restaurants and best vegan meals we have EVER had, everything was certified slow food, organic, vegan, gluten-free, and they even have organic wine.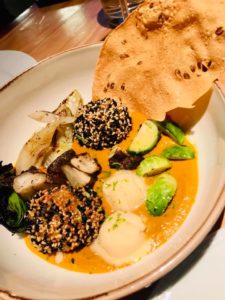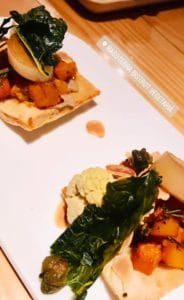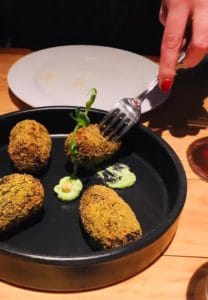 In our culinary adventures, I discovered that traditional tapas in Spain are often either meat or fried. I was a little surprised, but as I always share with my clients, we navigate these things by taking a breath and beginning our internal negotiations.
Starting with, what are my options?
Then, what is super exciting to me?
How hungry am I?
How do I want to feel after I eat?
Neither of us eats meat, so we can easily eliminate that from the menu.
What is the most veggie-forward?
What is the freshest?
Is there a special, traditional local food?
Do I want something to drink?
Using those parameters, Kelly and I chat it out.. "ooh the croquetas sound good and those are the special item, Ok let's give them a try" (if they are too fried and super heavy we don't need to finish them). "Ooh, zucchini with truffle and a vegan pumpkin pancake, yes, please!".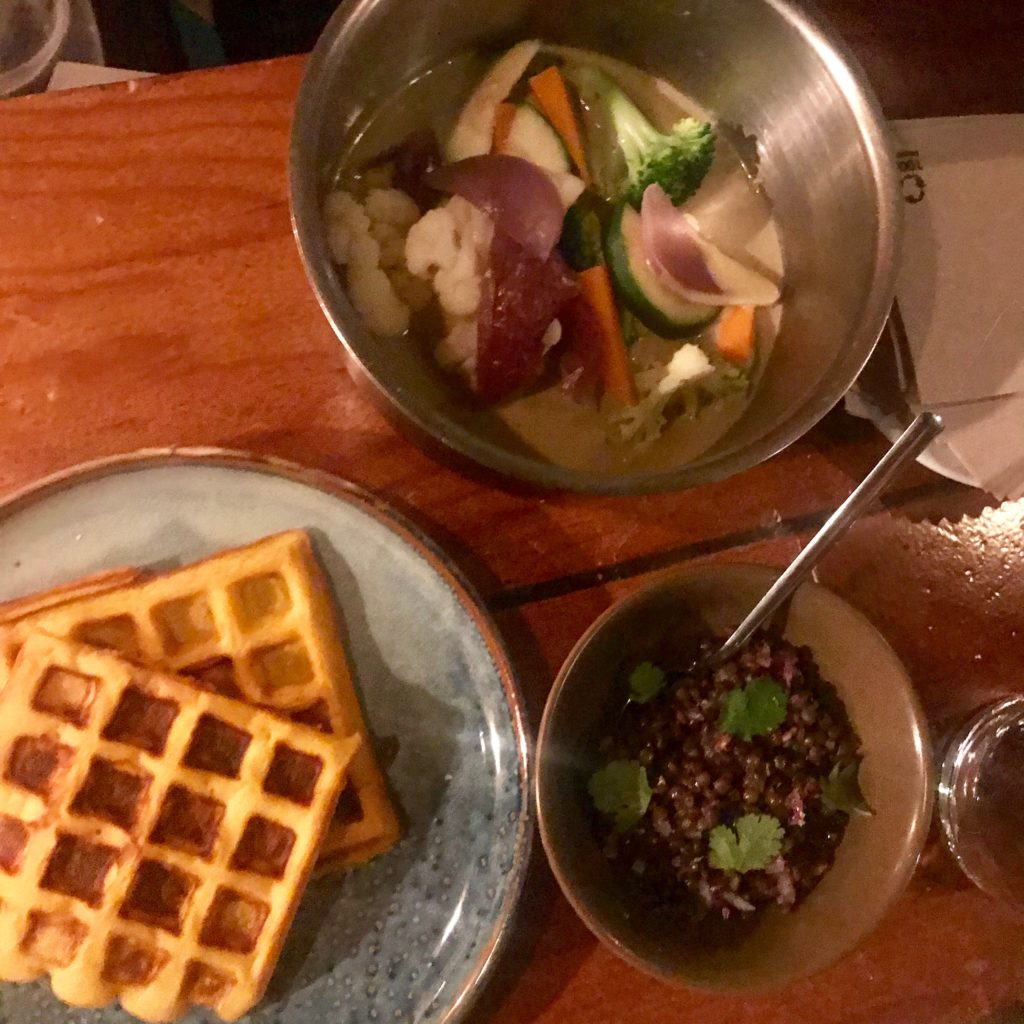 Go with what excites you!
There were times when the veggie option was topped with pesto or burrata cheese. I have a special place in my heart for burrata and I don't eat it almost ever, so this was a special occasion. For us, it was worth it, and once was enough.
A lot of the time I was focused on increasing my presence, so photos were not taken :)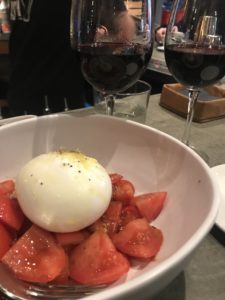 We went with the 80/20 rule, and with lots and lots of movement and steps.. including dancing the night away in the discotech.
We met great people and had an informal wine tasting on the train from Sevilla to Madrid with new friends, which was probably my favorite part of the whole trip. It's the things that can't be planned, you know? There's always a better plan in place than our own.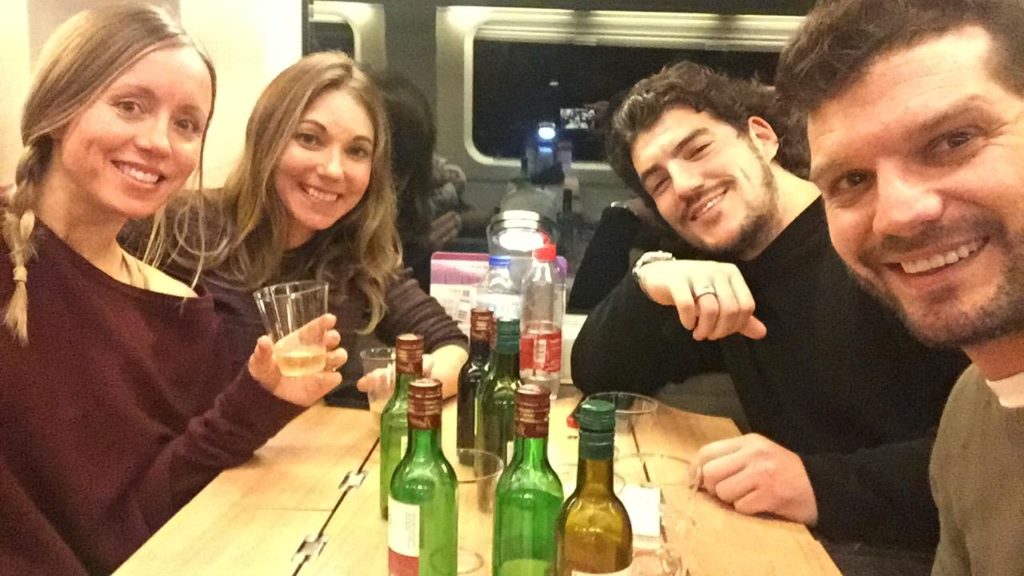 Overall, it wasn't about being obsessed about the details of the wine or food or exercise, (or trying for it to be "perfect") but more about being conscious, and mindful.. what would make me feel good? What really excites me?
You have one life to live! I think there is a beautiful place where healthfulness and pure joy intersect. That's my favorite place. We found it here.
There's an important part of the puzzle: recognizing the stress that comes with beating yourself up for something you ate or the exercise you didn't do, is what will wear you and your health down in the worst way. It's not loving. Don't do it.
Spain was a very spiritual experience for me. Spirituality and Christianity is celebrated and worshiped in the most incredible way, everywhere we went. I soaked it in.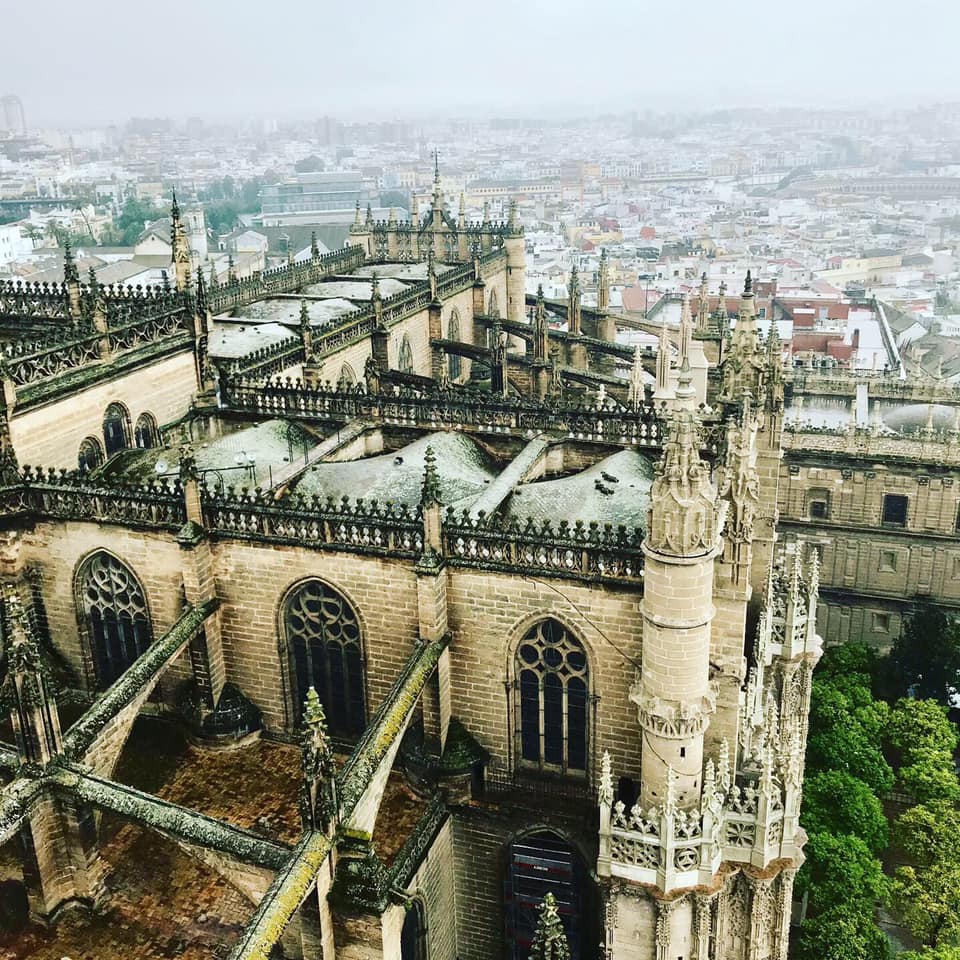 It reminds me to stay connected, and to know that my body, my emotions, and my heart will always give me the direction I need.
I hope you are out there exploring that as well.
Thanks for tuning in.
With love,
Vanessa